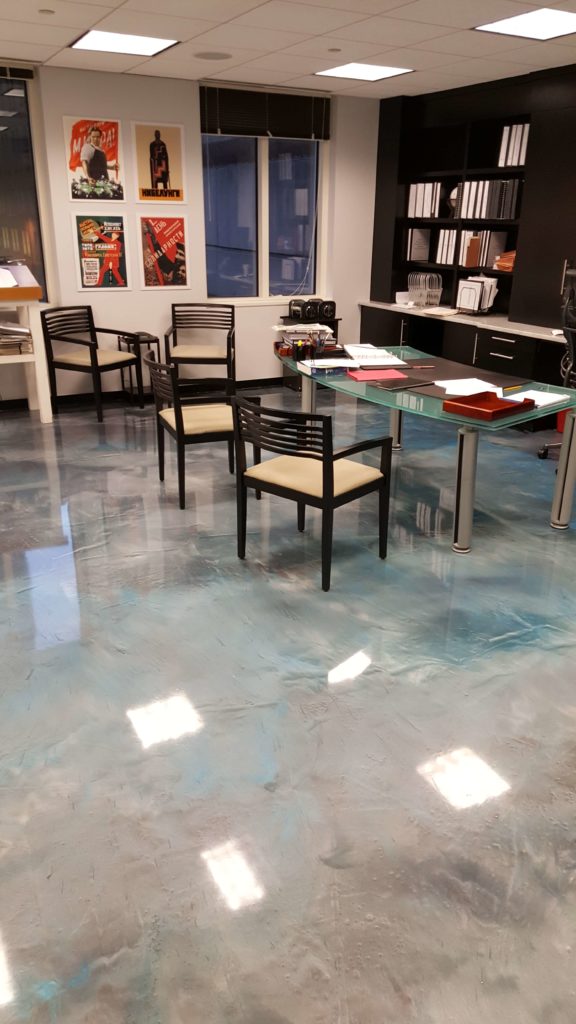 Located in Virginia, Concrete Etc provides concrete services. In a commercial or industrial setting, a wide variety of floor coatings and treatments are appropriate. In the end, factors like the work environment, any specific performance requirements, cost per square foot and the floor's dimensions determine the type of flooring to be installed. Epoxy flooring has become increasingly popular in recent years. Many facilities managers prefer epoxy over treated concrete floors or do not consider concrete at all when assessing the durability of the floor. Consider the advantages and disadvantages of polished concrete flooring before making a final decision. When it comes to the treatment process, polished concrete is superior to epoxy flooring. The cost and time involved in redoing a floor are far greater than if you had simply gone with polished concrete in the first place. We'll take a look at the many advantages of polished concrete in this article.
Benefits of Polished Concrete
An End to Dusting and Efflorescence
Concrete that has not been treated, despite its superior strength, is vulnerable to certain forms of deterioration and chemical reactions that occur naturally. As a result, salt migration (efflorescence) takes place constantly because concrete is porous. These difficulties can be avoided fully by polishing the surface at the source, as previously stated, which leads to dusting and the deterioration of epoxy and other coatings
Stain-Resistant Flooring Surface
Concrete's porous nature is in fact one of its most serious problems since it accounts for a considerable amount of its overall maintenance costs over its lifetime. Polishing the concrete seals the surface and makes the concrete denser. Natural water and oil repellency make it possible for it to function without additional protective measures.
Reflectivity and Ambient Light
Adding more reflectivity to your safety paint will increase its effectiveness. Long-term savings on energy bills are another benefit of this method. Improved ambient lighting may generally make your facility appear newer and cleaner, making it more welcoming for visitors and staff.
Higher Levels of Slip Resistance
Like other varieties of concrete, polished concrete becomes dangerously slick when wet. It will, however, provide substantially more traction than an untreated floor. Glass beads or sand can be added to further improve these properties, making it more suitable for use in parking decks and other areas where traction is crucial.
Cost-Effective Ongoing Maintenance
Ultimately, polishing your concrete floor has the effect of lowering your total cost of ownership by thousands of dollars over the course of several years. As a result of the compact surface, aggressive scrubbing is not required to remove stubborn stains. Furthermore, you will not have to spend any money on waxing or stripping to keep the characteristic sheen.
Generally VOC-Free and LEED Compliant
VOCs pose a serious threat to the health and safety of your employees and the general public. When it comes to environmentally-friendly alternatives, modern coatings typically have fewer or no VOCs. Polished concrete virtually eliminates the need to introduce volatile organic compounds (VOCs), making it an ideal choice for LEED projects.
Improved Effectiveness of Old Floors
Treating your concrete floor is a great way to increase the life of the slab beneath it. Longevity of the slab is improved by epoxy flooring as well as concrete polishing. Compressive strength and resistance to erosion are two of the many advantages of polished concrete. A mechanical polishing procedure can be used to resurface the surface by grinding away the top layer.
Reduced Tire Abrasion and Associated Wear
Polished concrete is an excellent flooring choice for areas with a lot of foot and vehicle traffic. Forklifts and smaller vehicles won't leave scuff marks or stains on polished concrete. It can last for years when used with a high-traction sealer.
Minimal or No Disruption in Operations
Floor coating and treatment processes have their own set of rules and regulations. Some paints, for example, necessitate the use of a primer and additional drying time following application. A dry mechanically polished concrete floor can be returned to service soon once the operation is completed.
No Extensive Cleanup, Toxins, or Hazards
As a result of the possible dangers, businesses often postpone large-scale flooring projects No hazardous chemicals are used in concrete polishing and no hazardous waste products are produced. Even the treatment area's ventilation isn't as big of an issue. Because of this, most tasks may be completed in a matter of hours or days.
Because epoxy or polished concrete are the most common choices for floor coverings, make sure to consult with professionals who are well-versed in both. In the majority of heavy-duty commercial and industrial environments, both types of flooring are an excellent choice for the floor covering. There are several variables that must be taken into account, such as the peculiarities of your work environment and ambitions. When it comes to a facility's long-term performance, even the tiniest things can have a big impact.
The Concrete ETC; Polished Concrete Fairfax, VA
For this reason, why are polished concrete floors so popular in business and residential settings? Polished concrete floors provide a long list of advantages that people are now discovering. When weighing the benefits and drawbacks of polished concrete flooring, it's clear that the former outweighs the latter. Walking on concrete can be a little uncomfortable, but that's about the only negative. Because concrete is firm and doesn't give underfoot, it may not be pleasant to stand on for a long time. However, this hardness might be an advantage in terms of durability and sturdiness. Adding mats to areas where employees will be standing for lengthy periods of time is another way to alleviate any pain. At times, concrete might feel cold to the touch. Commercial or industrial concrete flooring isn't as big of an issue as it is in a residential setting where people may be walking about barefoot. Polished concrete floors are great thermal conductors, which means they may be kept warm for bare feet by a radiant floor heating system. Call The Concrete Etc in Virginia if you want newly polished concrete floors put or if you want to transform your current dull concrete floors into a work of art. You may rely on our well-deserved reputation for quality to guide you in achieving the exact functionality and appearance you desire.