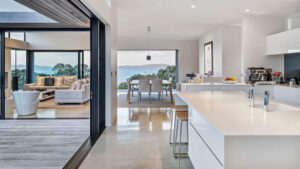 When it comes to new constructions and renovations, one detail that is always considered is the floor type. Depending on the building type and the needs of the person doing the construction or innovation, these common floor types are often considered: hardwood, bamboo, carpet, tile, marble, stone, laminated, and linoleum. Another great flooring option is polished concrete floors.
Introduction to Concrete Floors
As a viable alternative to the other floor types, there's a lot that can be done with concrete floors. For example, concrete floors can be stained in just about any color and can be finished off in any number of ways. Some finishes for concrete floors can include a shiny, smooth, polished, or textured finish.
Another major advantage to having a concrete floor is that it is more durable than the other floor types, and is especially easy to maintain and keep clean. Concrete floors are also cheaper than the other floor types! Just how cheap? Let's compare it to some of the other floor types!
Concrete: $4.00 – $8.00; Labor & Materials: $0.00
Polishing Concrete: $2.00 – $15.00; Labor & Materials: $0.00
Laminated: $2.00 – $6.00; Labor & Materials: $4.00 – $8.00
Tile: $5.00; Labor & Materials: $0.00
Hardwood: $6.00 – $25.00; Labor & Materials: $3.00 – $5.00
Bamboo: $9.00 – $19.00
At first glance, there doesn't appear to be much difference in the price range, but once you factor in the costs of additional materials, the pricing of the other floors can easily skyrocket. As such, concrete floors are an excellent alternative that still gives a building a modern look without sacrificing quality. Concrete floors are also easier to clean than some of the other floor types, especially when polished.
Between lower pricing, easier maintenance, and a high-quality look, you honestly can't go wrong with ordering a concrete floor, but you don't have to take our word for it. In fact, let's further break down the advantages of having a polished concrete floor!
Polished Concrete Floors Is Fairly Inexpensive
When taking into account that only one material is used in concrete floors, the most you'll likely pay for the floor alone is only $8.00 per square feet. Even when you add polish as a finishing touch to the floor, at its maximum, that's still only $15.00 per square inch. In total, between concrete and polish, you're only looking at a maximum of $23.00 per square footing, which is still under $50.00. This gets us to our next point.
Polished Concrete Floors Cost A Lot Less Than Other Floor Types
As mentioned in the point above, concrete floors only require one material, which makes it the cheapest material to use for achieving a durable modern look. Even better yet? Most buildings have a concrete subfloor, which can be easily polished as opposed to investing in a completely new floor.
Since polishing concrete subfloor costs anywhere between $2.00 to $15.00 per square foot, you're cutting down significantly on the costs of a brand new floor, which can cost as low as $2.00 per square foot to as high as $25.00, and that's before you add labor and other material costs.
Even if you don't have a workable subfloor and still require a new slab of concrete, that's still only a $4.00 to $8.00 bargain with an additional $2.00 to $15.00 for polishing per square foot, which is still less than the price of a bamboo floor. Let's dive deeper.
Polished Concrete Vs Bamboo Floors
Despite being a more popular and somewhat cheaper alternative to hardwood floors, bamboo floors still exceed polished concrete floors in total costs. With a bare minimum starting price of $9.00 per square foot, this is still $5.00 more than the starting price of a new concrete slab and $7.00 more than the starting price of a polishing job.
Polished Concrete Vs Laminate Floors
Compared to both bamboo and hardwood floors, the cost of a laminate floor is on more even ground with a polished concrete floor in terms of price. The drawback, however, is that contractors tend to remove and replace the concrete subflooring before installing the laminate floor to avoid the likelihood of uneven flooring in the future. This adds an additional labor cost per square foot, which is independent of the price of the laminate floor itself.
Polished Concrete Vs Tile Floors
The cost of installing a tile floor per square foot is about the same as polishing an existing concrete floor. The difference, however, is that – like with the laminate floor – contractors charge labor per square foot. While the labor cost can be averted by installing the tile floor yourself, there is also room for error in doing so, and in the end, may end up paying more in labor to have it professionally done.
Breaking Down The Cost Of Polished Concrete Floors
After looking at how polished concrete floors fare in comparison to the other floor types, it's now time to look at the other factors that inform the final price of installation. While the price per square foot is still pretty good, the total price is ultimately determined by other factors like the size of the building area, the quality of the subflooring, and the finishing touches that are made to the concrete floor like polishing.
Building Size And Number Of Rooms
The first thing that factors into the final price of installing a polished concrete floor is the size of the building or area, as well as the number of rooms that need to be slabbed. In general, the bigger the area and the more rooms there are to slab, the higher the price gets. This is because contractors will have to use smaller tools to work around doorways and edges, which can quickly make the price of installation rack up. The fact that polished concrete floors are cheaper helps to cut costs on this front.
Subfloor Quality
The second detail that factors into the final price of installing a polished concrete floor is the quality of the concrete subfloor. If it's a smooth subfloor, then the concrete can just be polished. If the concrete subfloor, however, requires smoothing out – either through grinding or filling – this can lead to additional costs, though not as much compared to the other floor types.
A Polished Finish
The third detail that determines the final price of a polished concrete floor is the polishing job itself. In general, the shinier you want the floor to be, the more it'll cost to polish. The other thing that causes the cost of polishing to rack up is if you decide to incorporate a sophisticated pattern in multiple colors. This will add more steps for the contractor to follow, which they can then add to their labor cost. If, however, you keep the polishing job simple, on the whole, it shouldn't be too big a factor in the final cost.
 Final Thoughts On Polished Concrete Floors
Compared to other flooring types, on the whole, concrete polished floors are more cost-effective, especially once other factors are accounted for like building size and the number of rooms, among other things. Polished concrete floors are also highly durable and easier to clean and maintain. When deciding on a new floor, it's still cheaper to polish a subfloor or re-slab with concrete than to pay for a whole new floor altogether.
The Concrete Etc is a flooring company with over 15 years of decorative concrete polishing and natural stone restoration experience. To learn more about how we can help your flooring needs, check out our services page or contact us.