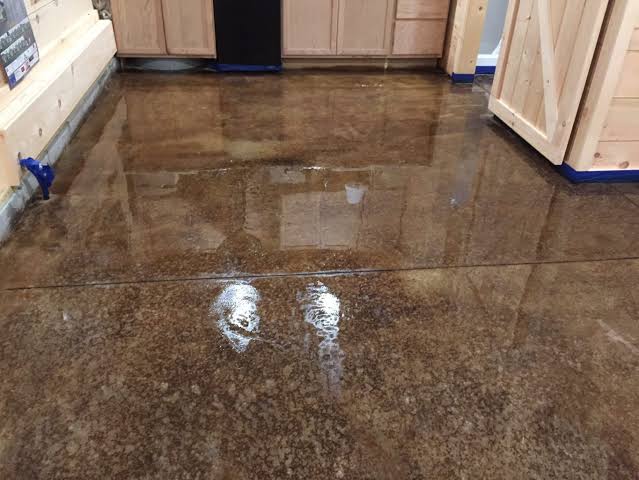 No matter if you're dealing with a commercial or residential space, you want flooring that looks great and can withstand heavy foot traffic. A lot of people prefer concrete staining because it is durable, easy to apply, and can be matched to your personal style preferences. Let's talk about concrete staining options and what you should know about them. The best concrete stains are those that are applied and installed by professionals. Concrete Etc in Gaithersburg, MD has the experience and expertise to help you get beautiful floors that will last for years. We'll begin by explaining what concrete stains are and why they're becoming increasingly popular.
Reactive and non-reactive concrete stains are both available. Acidic water-based solutions containing metallic salts are known as reactive stains, and they react with the lime content of concrete. During this process, the color binds with and becomes a part of the concrete. As far as we know, this stain won't chip away or peel.
When it comes to water-based acrylic stains that don't leave behind color-changing chemicals, those are known as "non-reactive stains." A more appropriate description would be "soak up into the concrete" and "deposit pigment particles in open pores." Acid stains, on the other hand, can only come in a limited range of colors and are difficult to apply. While acid stains produce more transparent hues, these dyes tend to be more opaque and more uniform in appearance.
Acid stains produce a wider range of color variations, which are accentuated even further by the final coat of sealer. In addition, it may be important to note that new concrete tends to have more vibrant color effects than weathered concrete.
Why Do People Like Concrete Stain?
Concrete stains have so many advantages. First and foremost, they have a distinct personality that other flooring options lack. Stains do more than just color the concrete; they infuse it with rich, deep hues. No two concrete floors will ever be the same after using stain and seal solutions. The concrete stain gives your floor an antiqued and variegated look without costing an arm and a leg.
It's easy to apply and has a quick turnaround time that makes concrete stains popular. Using concrete stains allows you to get back to work or the things you enjoy because they adhere well, dry evenly, and don't fade. It can be used on both new and old concrete to achieve the rich, dark hues you desire. It withstands heavy traffic and aging well.
Concrete Stain Vs. Paint Or Dye
Stained concrete has a long-lasting color that will not peel or chip because of the staining process. Indoor and outdoor concrete, usually come in earth tones, but they can also be found in brighter hues. This type of wood has a distinct rustic charm, and it's also incredibly long-lasting.
Despite the fact that it provides a protective layer, concrete paint will eventually wear away. A lot easier to lose its shine, peel, and chip. With concrete paint, you'll get a uniform color instead of a splotchy one like with stains. In most cases, paint is used to hide imperfections.
If you want to dye your hair a bright color like yellow or purple, you're not alone. When used with stains, they help to enhance the final appearance. When it comes to appearance, they're just as appealing as stains, but they dry a little more rapidly. Because of this, they should not be used on outdoor concrete.
The Process To Apply Concrete Stains
It doesn't matter how old the concrete is; it can be stained. Depending on the stain used and the desired effect, the staining process for concrete will differ. When it comes to staining concrete, there are generally four steps involved. Concrete staining, surface preparation, acid stain neutralization, and sealant application are all part of the process.
The Concrete ETC; Concrete Staining Fairfax, VA
To get a long-lasting industrial stain and seal, look no further than our stain and seal product line. A wide range of colors can be applied to our coating, which is semi-transparent and easy to apply. Stain and seal applications from Concrete Etc in MD are versatile and can be used in a variety of ways depending on the look you're going for. All of our stains are given a durable non-slip top coat as a final step before being applied to your floor. Basements, rec rooms, restaurants, commercial buildings, and showrooms of all kinds can all benefit from using these.
We'd love to answer any questions you may have about our concrete stain products. Do not hesitate to get in touch with us right away!