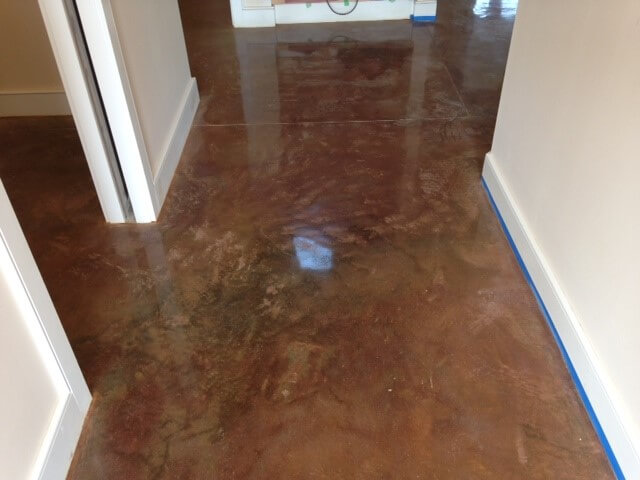 Are you browsing for concrete dyeing professionals in Alexandria, VA? If you're looking to add some color and life to your concrete floors, you may be wondering if concrete dye is the right option for you. In this article, we'll answer some of the most common questions about concrete dyeing: what it is, what it's made from, the difference between dye and stain, and how to protect your floors after they've been finished. Read on for more information on basic concrete dye Frequently Asked Questions!
What Is Concrete Dye?
Concrete dyes are translucent solutions containing powdered coloring agents that are able to penetrate the concrete floor's surface. These can be applied either in a water-based solution or solvent-based solution—though it is generally considered true that using the solvent-based dye will produce bolder, deeper colors.
What Is the Coloring Agent in Concrete Dye Made From?
Before mixing with a water or solvent solution, a contractor will typically select a pigment derived from synthetic iron oxide. Pigments will then be mixed with water, acetone, or some other solvent before application to the concrete.
What's the Difference Between a Concrete Dye and a Concrete Stain?
Also referred to as an "acid wash" or "acid stain," this form of coloring your concrete floors relies on a chemical reaction between the calcium hydroxide in the concrete with an acid to create semi-transparent colors. Oftentimes, these colors are limited in palette to earth tones, though there are some alternatives on the market for those looking for something a little more lively. Acid stains are UV-stable, meaning that they will not fade when exposed to light over time; as such, they can be used on concrete floors inside or outside.
While concrete dye is also applied manually to the top of the concrete floor after it's set, it relies on water- or solvent-based pigmented solutions to penetrate the surface of the concrete. This dye will actually fill the concrete's pores, rendering it nearly as long-lasting in vibrancy as the acid wash. One drawback with the concrete dye is that it is not UV-stable, meaning it is generally best left to indoor projects. However, some folks opt for a concrete dye over an acid wash if they are attempting to create a design or pattern on the concrete. Concrete dye affords the user a little more control over the end result, as opposed to the organic look that comes with acid staining.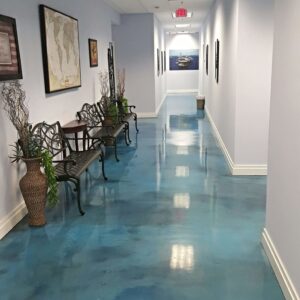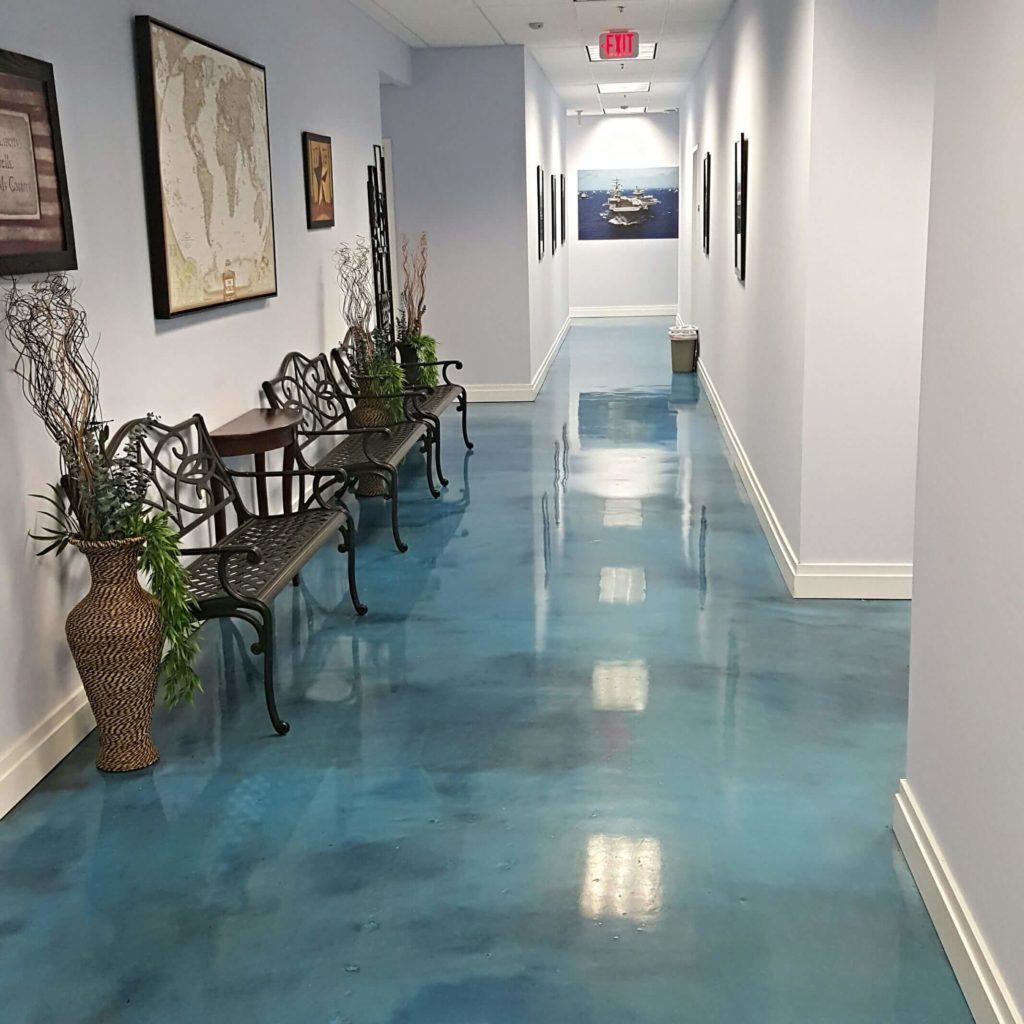 What Colors Can I Dye My Concrete?
Can you imagine having your company logo in colored concrete on your office floor? This is why many opt to leave coloring their concrete floors to the professionals. (Read on for why you should hire a contractor to pour your concrete floors!) Concrete dyes come in a wide variety of colors, spanning from blues, greens, and reds to yellows, darker grays, oranges, or browns.
How Is Concrete Dye Applied?
Concrete dye can be applied to the surface of your concrete floors in a variety of ways. Many contractors opt for using a high-volume low-pressure (HVLP) sprayer for even distribution of pigment, especially if they are sticking with one color versus an intricate design—however, others may choose to roll or brush it on, depending on the circumstances!
In all scenarios, the dye is applied to an unfinished, unsealed concrete surface for best results. (If you suspect your floor may have been sealed, drop some water on the surface of the floor. If it beads on the surface, it has been finished; if it slowly soaks into the pores of the concrete, it's ready for dye!)
Typically, concrete dye will be applied in at least two coats, for maximum color saturation. For best results, the contractor will wait between 2-24 hours between applying coats of dye.
How Should I Protect My Dyed Concrete Floors?
Now that you've gone through the trouble of dyeing your concrete floors (or hiring professionals to do the hard work for you), you're going to want to protect your investment by sealing the floors. Some contractors will even follow up with an additional layer of wax. An additional wax coating will absorb the shock of any impacts like scuffed furniture or dropped utensils and is simple to reapply periodically. If you properly seal and wax your dyed concrete, you are likely to preserve its noteworthy color for many years to come.
Why You Should Leave Dyeing Concrete to the Professionals
Especially if you're looking to get your floors done in a commercial or industrial setting, it's generally best to call in the professionals to tackle this dirty job for you. This not only saves you from having to calculate how much concrete to use or selecting the right kind of concrete for the job, but it also saves you from:
·      Having to purchase specific tools to get the job done
·      Correctly mix the concrete with the right water ratio
·      Build sturdy forms for the concrete
·      Lay metal reinforcements for structural integrity
·      Reach peak concrete texture
Just selecting the right kind of concrete for the job alone can be quite an undertaking. Different kinds of concrete include self-consolidating concrete, stamped concrete, ultra high-performance and high performance concrete, high-strength concrete, and modern concrete. While it can be tempting to work on projects yourself, for an undertaking as nuanced as pouring concrete well, it's often better to phone in the professionals.
Concrete Dyeing Alexandria, VA
If you're looking for ways to spruce up your new concrete floors, you can opt from either an acid wash or stain, or a concrete dye. While each of these will be permanent if treated correctly, only acid stains are UV-stable and are therefore recommended for cement projects outside. Whichever form of cement coloration you choose, in order to get the best results, you'll need to look for professionals at the top of their field who truly love concrete.
Are you looking for professional contractors for concrete dyeing in Alexandria, VA? Contact The Concrete, Etc today for a consultation, or browse our previous work by clicking here!