Elevate Your Spaces: Your Ultimate Choice for Professional Concrete Services in Aspen Hill Maryland
Hey there, folks of Aspen Hill, Maryland! If you're on the lookout for concrete services that can add a touch of elegance and durability to your homes or businesses, then you're in for a treat. We're here to introduce you to a local gem that's been creating waves in the world of concrete transformations – none other than The Concrete, Etc. Get ready to dive into a world of exceptional concrete solutions that cater to the unique preferences and needs of residents and business owners alike. From the glitz of high-gloss polished concrete to the ruggedness of industrial surfaces, the artistry of stained and polished floors, the resilience of epoxy coatings, and the care for natural stone, The Concrete, Etc. has got you covered!
Services Offered:
1.      High-Gloss Polished Concrete Flooring: Picture this: you step into a room, and your eyes are immediately drawn to a floor that shines like glass. Well, that's the magic of high-gloss polished concrete flooring by The Concrete, Etc. These surfaces don't just look amazing – they also reflect light, creating a sense of spaciousness and opulence. Whether it's your home's living room or a commercial showroom, high-gloss polished floors are a game-changer.
2.      Industrial Polished Concrete Flooring: For our business owners in Aspen Hill, we understand the demands your spaces face. That's why The Concrete, Etc. offers industrial polished concrete flooring solutions that can stand up to the rigors of heavy foot traffic, machinery, and constant activity. These floors don't just endure; they do it with style, thanks to the expert touch of The Concrete, Etc.
3.      Stained and Polished Concrete Flooring: Now, let's talk character and creativity. Stained and polished concrete flooring is where The Concrete, Etc.'s artistry truly shines. Imagine floors that tell stories through vibrant colors and intricate patterns. The team masters the art of enhancing concrete surfaces with rich stains, bringing out the innate textures and variations. Your floors become canvases, and every step you take becomes a journey.
4.      Epoxy Flooring: We get it – you need a floor that can handle the hustle and bustle without compromising on aesthetics. That's where epoxy flooring from The Concrete, Etc. steps in. From garages to warehouses to commercial spaces, epoxy floors are like armor for your surfaces. They laugh in the face of chemicals, impacts, and heavy loads. Plus, with a range of colors and finishes, you get to be the boss of your floors' looks.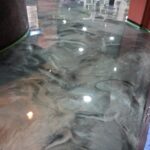 5.      Natural Stone Restoration and Maintenance: Do you have precious natural stone surfaces that have lost their luster over time? The Concrete, Etc. knows just what to do. Their natural stone restoration and maintenance services are like a spa day for your floors. Whether it's marble, granite, or any other stone, their experts work their magic to breathe life back into them. It's not just about restoration – it's about preserving the beauty for years to come.
Why The Concrete, Etc. is Your Winning Choice for Professional Concrete Services Aspen Hill Maryland
Expertise Beyond Measure: With a track record that's as solid as their concrete, The Concrete, Etc. brings a wealth of experience to every project they tackle. You can trust that your spaces are in capable hands.
Quality that Matters: When it comes to concrete, "good enough" simply doesn't cut it. The team at The Concrete, Etc. is committed to using only the best materials and techniques, ensuring that your surfaces not only look great but also stand strong against time.
Your Vision, Their Mission: Your dream spaces are unique, and The Concrete, Etc. knows that. They work closely with you to understand your vision and turn it into a concrete reality (pun intended). It's not just a project to them; it's a journey they take with you.
Customer Happiness is Key: The Concrete, Etc. isn't just about floors; they're about relationships. They're passionate about ensuring that you're not just satisfied but absolutely thrilled with the results. Your happiness is their fuel.
Your Top Choice for Professional Concrete Services in Aspen Hill Maryland – The Concrete, Etc. 
Fellow Aspen Hill residents and business owners, the concrete transformation of your dreams is just a call away. The Concrete, Etc. is your local partner for high-gloss polished luxury, industrial sturdiness, artistic stained floors, resilient epoxy surfaces, and the revival of natural stone beauty. Whether you're looking to revamp your cozy haven or create an inviting commercial space, The Concrete, Etc. is here to make it happen. Get in touch today at (301) 945-4210 , and let the concrete adventures begin!