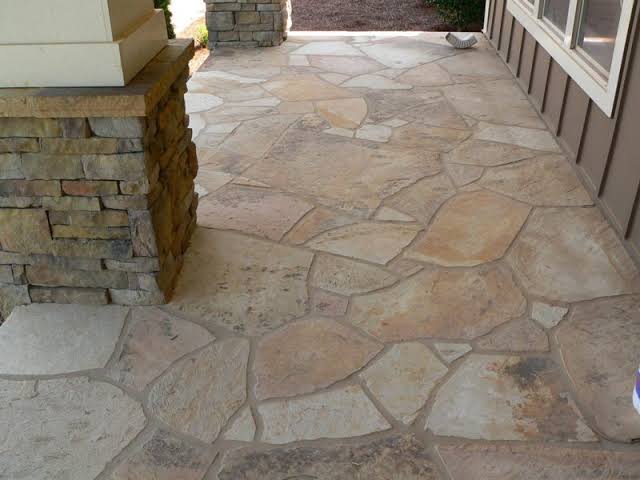 If you're looking for a flooring material that is both beautiful and durable, then you should consider natural stone. Natural stone floors come in a variety of finishes, so you can find the perfect look for your home. Curious about natural stone floor maintenance? Virginia homeowners should know that not only are natural stone floors gorgeous to look at, but they are durable as well. In this article, we will discuss the different types of natural stone floors, their benefits, and how to care for them.
What Is a Natural Stone Floor?
Natural stone floor, typically in the form of tiles, is a material of flooring that is cut from naturally-occurring minerals. Examples of this include quartzite, slate, sandstone, limestone, granite, marble, travertine, and other natural stones.
Natural Stone Floor Finishes
Nowadays, there are many different ways to finish natural stone floors—but the top three most common are polished, honed, or flamed stone floors. A polished finish reflects a great deal of light and provides a glossy surface that reflects the character of the stone beneath it.
A honed finish, on the other hand, offers less reflectiveness than a polished natural stone floor but still leaves the stone smooth on top. This type of finish is common for floors, stairs, and other areas of heavy foot traffic.
A natural stone floor that has been flame finished is heated to an extreme temperature using a heat gun and then rapidly cooled. This offers an interesting aesthetic to the stone and provides a rough texture which is great for anti-slip precautions. Flame finishing is quite common for granite floors.
Can You Paint Natural Stone Floor Tiles?
The short answer to this question is yes, you can paint natural stone floor tiles—however, the tiles must be thoroughly cleaned and dried first, as any excess dirt, oil, or debris can muddy the job! In case you are wondering, the grout must also be dry before you begin.
Also, the type of paint you choose is important, as it must be compatible with the stone you are going to paint. For most natural stone tiles, latex paint or epoxy paint works, but it's recommended to cover the paint (once it's dried) with a masonry sealant to protect your work. (For more on how to paint natural stone, click here!)
How to Clean Natural Stone Floors
Fortunately for the average home or business owner, natural stone floors are as low maintenance as they are durable. The most important aspect of keeping your natural stone floors clean is to remember to immediately clean up spills as they occur to prevent stains from forming. Should your floor become stained, do not try to use chemicals to clean it. Contact an expert in natural stone flooring to come and refinish your floors for you so they gleam like new again!
Otherwise, simply dry mop your natural stone floors regularly and wet mop using a mild detergent or soap specifically designed for stone. Allow the floors to air dry and voila! You've taken care of your beautiful stone floors!
Benefits of Choosing Natural Stone Flooring
As we've covered, natural stone floors are a great choice for residential and commercial spaces alike for their low maintenance characteristics—but there are a number of other benefits associated with natural stone flooring as well. Here are the top three reasons to choose natural stone flooring for your next construction project:
1.     Aesthetics: Natural stone has a visual appeal that is timeless and classic. Its natural beauty makes each stone unique and therefore irreplicable, with a wide variety of stones, hues, and textures to choose from.
2.     Durability: Natural stone is not only beautiful to look at, but it is one of the more durable flooring materials on the market today—which means it works both indoors and for outdoor projects. Plus, if your natural stone is ever damaged by impact marks, scratches, or stains, you can simply have it refinished by a professional flooring contractor like The Concrete, Etc and your floors will be gleaming like new again!
3.     Safe and non-slip: Because stone flooring is naturally textured, you won't have to worry about slipping on an extremely smooth surface like you might with high gloss concrete floors. You can also select from a wide variety of textures, from sandblasted to flame finished natural concrete floors.
While there are numerous benefits of choosing natural stone, it's important to keep in mind that it is a naturally porous material—so if it is not finished correctly, it may become damaged over time, especially if exposed to the elements. While it is a classy choice that can be a simple way to elevate your space, it's important to note also that natural stone flooring is not as affordable as some other types of flooring, like polished concrete or epoxy.
Natural Stone Floor Maintenance Virginia
Natural stone offers an elegance that is matched only by its durability, making it a striking addition to any space (indoor or outdoor) that is bound to last for years if properly maintained. Natural stone can be finished in a number of ways making it an aesthetically variable material to work with, with a wide array of textures, paints, and stains to choose from in the finishing process. In the event your stone floor becomes damaged in any way, however, you will need to seek professional services for natural stone floor maintenance. Virginia and the surrounding area's premier flooring contractor The Concrete, Etc. specializes in natural stone floor restoration and maintenance and can return your damaged floors to their former glory.
Contact The Concrete, Etc. today for a quote, or click here to browse our gallery of previous work!