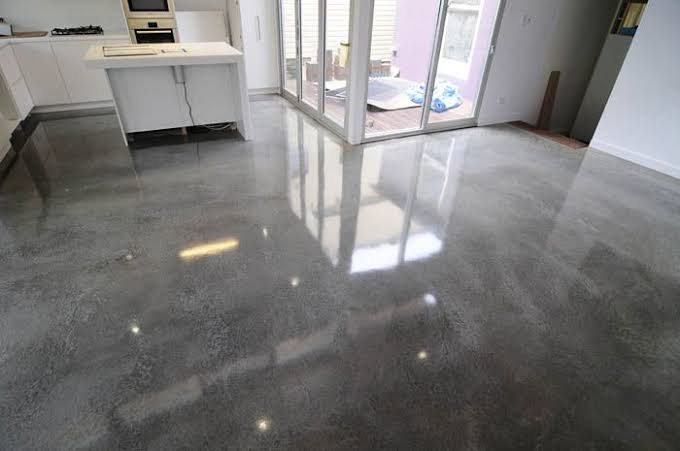 If you're looking for an industrial, high-end look for your home or office, concrete floors may be the perfect option. There are many different finishes that can be applied to concrete, but one of the most popular is high gloss polished concrete. Alexandria, VA flooring contractors know that this popular choice not only looks great, but has several pragmatic qualities as well that make it a smart investment. In this article, we will explain what high gloss polished concrete is, if matte concrete floors can be sealed, the benefits of concrete floors, and why you should choose a high gloss finish for your concrete floors.
What Is High Gloss Polished Concrete?
High gloss polished concrete is essentially concrete that has been polished and sealed with a chemical sealer to the point that it is essentially reflective like glass, and may even appear wet. This type of flooring is used in all sorts of applications, from personal home flooring to commercial or industrial uses.
What Are the Other Levels of Sheen for Finished Concrete Floors?
Of course, if seeing your face in your floor isn't your thing, you don't have to polish your floors to a high gloss finish. There are three other levels of sheen that can be attained through the concrete floor finishing process. These levels include:
1.     Mid-range gloss finish: Sometimes called a "medium gloss finish," this type of polish will still reflect light, but will likely not appear wet. This is why it is a popular choice for commercial buildings like restaurants and breweries.
2.     Low gloss finish: This type of floor has even less reflective properties than the mid-range sheen. Typically, reflective properties can be noted at a distance of 100 feet, versus the 30-50 feet of a mid-range gloss finish.
3.     Matte finish: This type of finish will not be reflective much at all, and will appear hazy, soft, and flat.
Can Matte Concrete Floors Be Sealed?
The short answer to this question is yes—all concrete floors should be sealed to protect them from damage from everyday wear and tear, the elements, and oil, water, or rust stains. Even though folks who opt for matte concrete floors might be going for a certain look (one that is less reflective than its high gloss counterpart), it is still recommended that they seal the finished concrete floors with a matte concrete sealer.
There are several kinds of matte concrete sealers on the market today, each with its own set of benefits. Perhaps the most common of these sealers is a penetrating sealer, that penetrates the surface of the concrete in a way that acrylic or polyurethane sealants will not. Other forms of matte concrete sealer include:
·      Siliconate concrete sealer, which is quite effective at repelling moisture and protects the floor from water damage.
·      Silicate concrete sealer, which can increase the strength and density of the concrete floors by creating a calcium silicate hydrate barrier within the pores of the concrete. This protects the floor from wear and tear.
·      Silane-siloxane concrete sealer, which also repels water and other liquids.
What's the Difference Between Grind and Sealed Concrete and Polished Concrete?
While sealed concrete finishes and polished concrete finishes might look similar at a first glance, they are achieved by different processes. Because grind and sealed concrete requires fewer steps than polished concrete, it is typically more affordable than polished concrete finishes.
With polished concrete floors, a series of abrasive diamond grinders are used with gradually finer grit until the floor is at the desired sheen. This takes longer and requires more manpower and resources than grind and sealed concrete, which is honed, cleaned, and then sealed with a chemical sealer.
You might be wondering: if grind and sealed concrete costs so much less and takes less time, why does anyone opt for polished concrete? The primary benefit of going to the trouble and expense of polishing your concrete floors is that it creates a far more durable end result than a quick grind and sealed finish. This becomes especially crucial in commercial and industrial settings, or areas of high foot traffic or abrasion.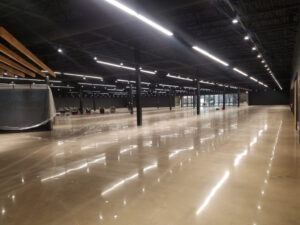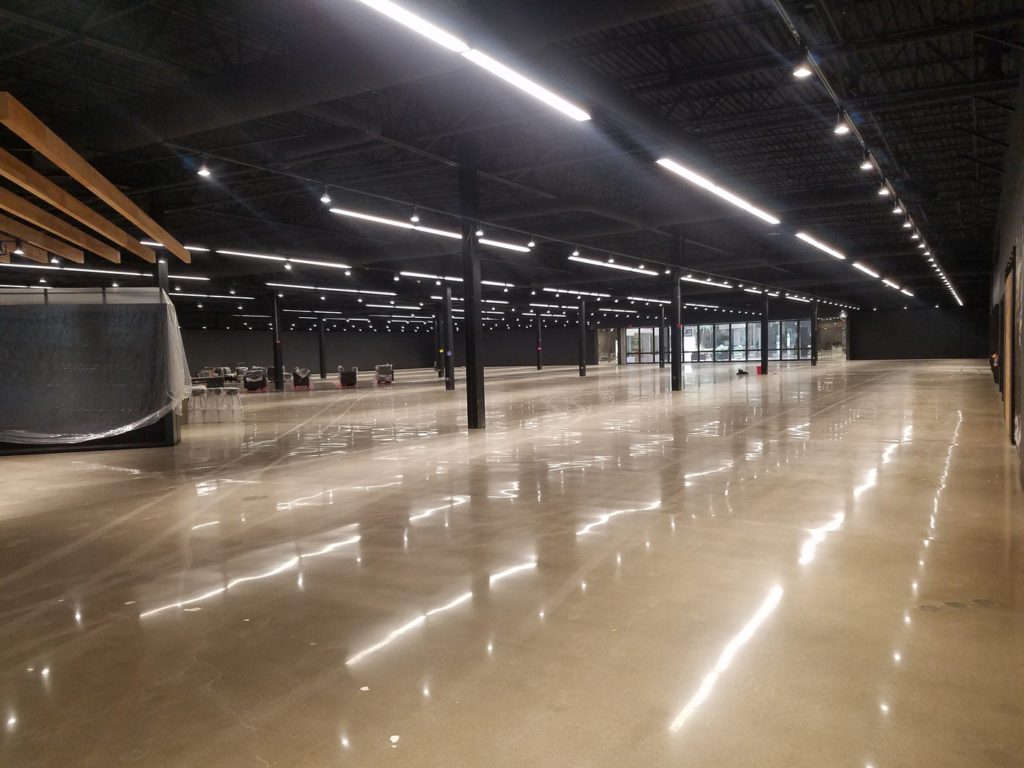 Benefits of High Gloss Polished Concrete Floors
While the upfront cost of polishing your concrete floors might make the average homeowner balk at first, investing in a thorough, careful finish to their concrete floors can help them last for years to come, and is a way to further protect their investment. There are several key benefits to choosing a high gloss finish for your polished concrete floors. These include:
1.     Light reflectivity: Want to keep the costs of illuminating your space down, or capitalize on all the benefits of natural light? Selecting a high-gloss polished concrete floor as your finish creates an extremely reflective surface that can brighten up any setting, whether in a commercial building or in a private residence.
2.     Easy maintenance: Another downside of the quick finish of grind and sealed concrete floors is that they typically take more effort to maintain. A high gloss polished floor will simply need basic sweeping and mopping, and perhaps the occasional re-application of sealer.
3.     Durability and life expectancy: While concrete is definitely a tough material when it's cured, it's not impervious to damage or distress. Going through the effort of honing and polishing your concrete floors offers additional levels of durability, which may be especially important in commercial or industrial settings.
Aside from these benefits, high gloss polished concrete makes a visual statement and can take your concrete floors from looking like an afterthought to being the focal point of the room. That being said, some grind and sealed concrete floors may offer a similar level of shine if they are finished correctly—just without the extended lifespan of the polished concrete.
High Gloss Polished Concrete Alexandria, VA
Whether you're planning on remodeling or building for the first time, many flooring contractors are turning to high gloss polished concrete. Alexandria, VA contractors like The Concrete, Etc. can help you decide on the right design, seal, and finish for your circumstances so you end up with beautiful floors that last a lifetime. Whatever type of finish you choose, you will likely end up with eye-catching floors that may even lower utility bills, last for decades, and prevent allergens from settling in like dander.
Are you ready to see what The Concrete, Etc. can do for your construction project? Contact us today for a quote or browse our gallery of previous work! For more on the benefits of choosing concrete flooring, check out our recent article on the topic.