Concrete Flooring: The Fusion of Durability and Aesthetics
Floors that stand the test of time while exuding an unmistakable charm are trending more than ever. Finished concrete floors embody these traits perfectly. As many in Fairfax, VA can attest, the beauty of concrete isn't just about its toughness; it's about the creative possibilities it offers.
Understanding Finished Concrete Floors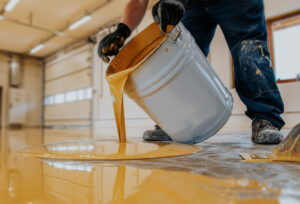 The surge in demand for finished concrete floors is attributed to their affordability and versatility. But, what sets them apart?
A finished concrete floor undergoes a curing period of roughly 30 days. Once cured, it's sealed using various techniques, from epoxy resins to grinding, polishing, or even silicone sealants.
Exploring the Spectrum of Concrete Finishes
Concrete's versatility shines through its array of finish options. Let's explore the range from the understated matte to the brilliant high-gloss:
Matte Finish: Defined by minimal light reflection, the matte finish is favored by those seeking an elegant, subdued look. The finish is determined by the sealer type used, presenting a delicate balance between sheen and subtlety.
Low Gloss Finish: This subtle shine is achieved by grinding, honing, cleaning, and then sealing the concrete with a low-gloss agent.
Mid-Range Gloss Finish: Ideal for those craving some shimmer without the full impact of a high gloss. This finish involves added stages of grinding and honing, complemented by a medium gloss sealer.
High Polish Finish: A pinnacle of reflectivity. The creation of this radiant surface necessitates meticulous stages of preparation and sealing. Besides its luminous allure, its intensive finishing process augments its durability, making it a favorite for commercial spaces.
Grind and Sealed Concrete: An economical choice that demands fewer steps than its polished counterparts. This method hones, cleans, and then seals the concrete without extensive grinding.
Infusing Personality Into Your Concrete Floor
For those seeking a pop of color or unique designs, there are myriad alternatives:
Stains: Transform your floor with acid or water-based stains. While acid-based variants exude earthy hues, water-based alternatives offer a broader color spectrum.
Epoxy: A layer of epoxy not only strengthens the floor but provides artistic freedom, from metallic hues to UV-resistant variants.
Dyes: These offer a vivid splash of color. Unlike stains, dyes permeate the concrete, resulting in richer shades. However, prolonged UV exposure can affect their vibrancy.
Stencils: A fusion of art and utility. Whether it's your company's emblem or an intricate design, stenciled finishes carve a niche in the realm of concrete aesthetics.
Preserving the Charm of Finished Concrete Floors
Concrete's allure lies in its simplicity and ease of maintenance. Prompt cleanup of spills ensures longevity. Regular dry mopping, followed by a mop-up with a neutral cleaner, retains its pristine look.
Embracing the Legacy and Future of Concrete Flooring
The millennia-old legacy of concrete in construction is invigorated with modern finishes. Fairfax, VA contractors, and countless others globally champion its unparalleled blend of resilience and aesthetic appeal.
For those intrigued by the world of polished concrete, dive deeper with our subsequent articles. Or, for tailored solutions, reach out to The Concrete, Etc. for expert advice and quotes!