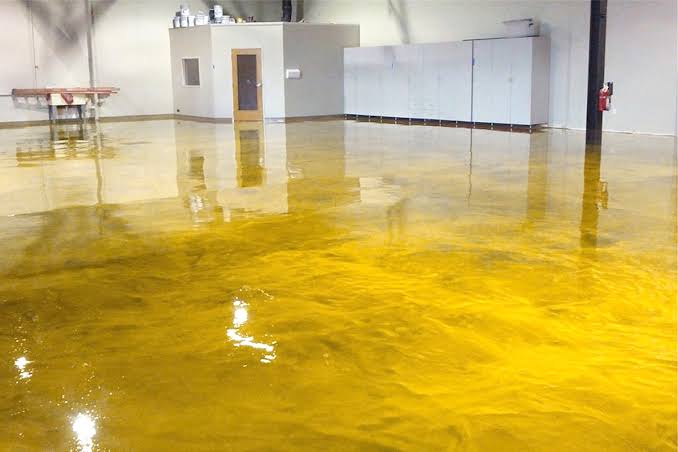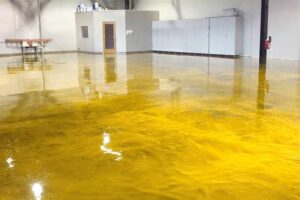 Epoxy Flooring Company, Maryland
High-traffic retail areas have high requirements for everything from heating and cooling to ceiling and floor coverings. Shopkeepers and store owners are always on the lookout for new cleaning hacks. In addition, these areas require surfaces that can withstand heavy use and minimal upkeep. With epoxy flooring, a business owner in Maryland may do all of that and more. The commercial flooring system is strong enough to endure heavy foot traffic, yet flexible enough to be designed to suit individual needs. Here are some of the most essential reasons why retail establishments should use epoxy flooring.
Customers are looking for more than just high-quality goods; they also want a risk-free buying experience. With the help of Concrete Etc, commercial spaces can have smooth walkways installed, suitable for the high foot traffic they expect. They are tough enough to survive the constant traffic in and out of your store and the carts, machines, and cleaning that will unavoidably be done on them. They are also resistant to the scuffs and dents that another flooring suffers when heavy objects are accidentally dropped on them. If a firm doesn't care about its flooring, it could face expensive and potentially deadly issues. A company can make the flooring nonslip by incorporating traction levels of varying types into the overall design. Having a customer sue the store because they fell is the worst possible outcome for a business.
Epoxy floors are low-maintenance and can be used in any commercial setting, from a tiny shop to a huge restaurant. These floors may be cleaned with simple water and mop by most cleaning crews. In this article, we will discuss what cleaning chemicals are appropriate for use on your flooring for tackling more difficult stains. Dust will not settle on epoxy flooring the way it does on other surfaces. In most cases, dust will remain on the surface of a floor made of cement or polished cement. Because of this, the floor may become dangerous. Epoxy flooring is not damaged by this kind of erosion and keeps dirt and debris from gathering on its surface. Epoxy is particularly sanitary since it resists the growth of bacteria and moisture. This is wonderful news for businesses like health clubs and restaurants that must adhere to rigorous hygiene standards.
Epoxy flooring is often more cost-effective and well worth the effort it takes to have it installed. If you factor in the time and money it takes to close your business, install the floor, and then maintain and redo the floor, epoxy is always the best option. Since installing a new flooring system can take several days, your business may need to close temporarily during this time. Epoxy flooring drastically reduces the amount of time it takes for many businesses to welcome clients. Customization affects curing periods, but resins are designed to harden rapidly. Epoxy flooring requires less upkeep than other types of flooring and hence costs less to maintain. These floorings are built to last through years of cleaning and heavy foot activity. Again, you'll benefit from reduced downtime and lower costs should flooring repairs ever be necessary.
You should charge extra for any customization choices you offer in your shop. But this branding is crucial to your company's success and the respect your clients have for you. The epoxy allows business owners to create a unique appearance without investing tens of thousands of dollars. The sophistication can be taken even further by allowing them to choose the floor's color and texture. In order to provide a good first impression, some stores choose to have their emblem prominently displayed in the foyer, while others choose to add decorative patterns throughout the space. Think about it: if you run a children's business, you may tailor your store to attract more customers by featuring cartoon characters and bright primary colors. Natural food stores might choose a color scheme that evokes their preferred setting by taking cues from the outdoors. The options are practically limitless, and you'll be impressed by how individualized we can make this product.
Epoxy floors, Maryland
When it comes to revitalizing their businesses, several of our clients have turned to epoxy in creative ways. Epoxy's adaptability means it may be utilized to highlight your company's other offerings. It has been utilized by some establishments to make dining room tables that are simple to wipe down and maintain a lively appearance despite frequent use and spills. It has been utilized on shelves by other stores to improve their appearance. We've even refinished a few countertops, where shoppers frequently set their purchases. Epoxy prevents these surfaces from ever seeming dull or worn by permanently sealing and polishing them.
Is there an epoxy job in Maryland that you need assistance with? If you have any questions about the procedure, please feel free to contact us right away or explore our website. Helping you create an impact in the business world is our top priority, and we're here to assist you right now.