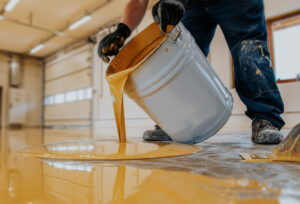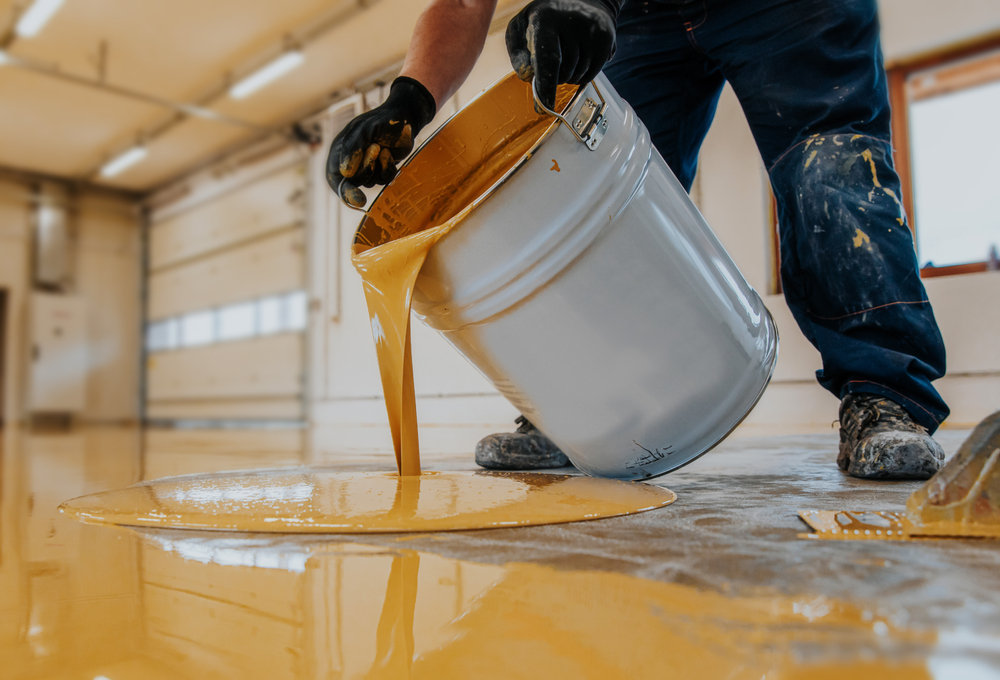 In commercial and industrial buildings, it's easy to overlook the value of good flooring. However, for maximum productivity and safety, you need floors that ensure that your business is running at full capacity. Because of its dependability and durability, epoxy finish concrete is popular with many companies. Among the many advantages of epoxy flooring is the fact that it is extremely durable. Here at The Concrete Etc located in Maryland, we can help you decide why epoxy is the best way for you to go.
Epoxy is a chemical compound made up of hardeners and resins. When these substances are combined, a chemical reaction occurs. Rigid plastic is the end product of this reaction when it has hardened, as it creates a network of interconnected cross-polymer structures. This substance adheres well to most subfloors, resulting in a sturdy and long-lasting floor. The epoxy is applied to concrete floors by epoxy coating professionals in the form of a liquid. After that, the liquid hardens into a smooth, long-lasting floor. A strong and seamless epoxy finish concrete surface is created because the epoxy coating adheres to the porous base layer of concrete, which is porous. However, the epoxy coating can only be applied by highly skilled professionals. Using these professionals, you can be certain that the original surface is suitable and that the proper epoxy coating is being used.
Benefits of Epoxy Flooring
Durable & Resistant
The epoxy coating adheres seamlessly to preexisting floor surfaces, resulting in long-lasting, high-quality surfaces. Additionally, epoxy flooring is incredibly durable and resistant to damage. Commercial and industrial buildings can benefit greatly from their use in these settings. Heavy machinery, forklifts, and transport vehicles are no match for epoxy coating's ability to withstand foot traffic from customers and workers. Accidents, such as dropped cargo or spills, will not damage your floor surfaces because epoxy flooring is shock- and impact-resistant.
Reduces Damage to Machinery
When it comes to machinery, the smooth and seamless surface created by epoxy coating is more forgiving than other types of flooring, making it more resistant to damage. This reduces the amount of wear and tear on the company's transportation equipment, resulting in lower maintenance costs.
Resistant to Chemicals
To ensure long-term effectiveness, epoxy flooring is constructed with a resistant and highly durable structure that can withstand repeated chemical exposure. Due to its resistance to these harsh elements, epoxy coating is a great choice for floors in pharmaceutical production centers and distribution centers, as well as manufacturing plants and other industrial establishments.
Attractive Floor Surface
Epoxy flooring's visual appeal is a major selling point for many business owners. Adding an epoxy coating to an old and worn-out floor transforms it into an eye-catching surface. In addition, a wide variety of textures and colors are available. The rest of your facility's decor or even your company's color scheme can be matched to your flooring.
Safe Working Environment
There are a variety of colors and patterns to choose from, making it possible to create distinct areas on the floor. These characteristics make epoxy floor coating an excellent choice in areas with a lot of traffic where it is necessary to clearly mark loading bays, forklift paths, and pedestrian paths. Additionally, epoxy coatings can withstand high temperatures, sudden impacts, slippages, and even fire. In addition, epoxy floor coating can brighten a room by as much as 300%. This is because of the smooth epoxy surface's ability to reflect light. Workers and customers will benefit from better visibility and a more secure working environment as a result of the new system. And you don't have to spend money on additional lighting, either.
Easy To Clean
Other types of flooring surfaces are difficult to clean because of their crevices and pores. Epoxy flooring, on the other hand, provides a completely smooth and sealed surface. Epoxy flooring has no pores or crevices, so cleaning and maintaining it is a breeze. Epoxy flooring can be kept looking like new with just a bucket of warm, soapy water.
Environmentally Friendly
An additional benefit of epoxy coating is that it is good for the environment as well as your business and employees. All of the materials used in the production are safe, and the manufacturing process is simple. Additionally, you don't need to use harsh and toxic chemicals to keep your epoxy flooring clean and free of dirt. It saves energy because large industrial and commercial spaces don't have to use additional lighting because of the extra illumination provided by epoxy surfaces. For many years to come, you won't have to worry about replacing epoxy coating, which means less waste. You'll also use fewer resources because your vehicles will last longer between the tire and mechanical part replacements because of the reduced wear and tear.
Cost-Effective
Epoxy floor coatings can be pricey to install. However, the fact that it will last for many years without needing to be replaced makes it a very cost-effective option.
Epoxy flooring is also cost-effective in the long run because of the savings on vehicle repairs, lighting, cleaning, and installation.
The Concrete Etc; Epoxy Flooring
It's clear from this list of advantages that epoxy flooring has many advantages. Moreover, these advantages range from financial to aesthetic in scope.
As a result, epoxy coating is a popular choice for warehouses, factories, and even RAF bases. Get in touch with us right away if you're interested in learning more about epoxy flooring installation.