In the heart of Washington D.C., architectural trends are as dynamic and fast-paced as the city itself. One trend that has captured the attention of homeowners and business owners alike is sealed concrete flooring. Stylish, durable, and low maintenance, sealed concrete floors offer a plethora of benefits, making them an ideal choice for various settings. For those seeking expert installation and sealing services, The Concrete Etc. is your reliable partner.
An Introduction to Sealed Concrete Floors
Sealed concrete flooring involves the application of a protective sealant over concrete surfaces. This sealant not only enhances the floor's aesthetic appeal but also provides an additional layer of protection against stains, moisture, and daily wear and tear.
Sealants come in different types, including acrylic, epoxy, and polyurethane, each with its unique characteristics. For instance, epoxy sealants offer exceptional durability, ideal for high-traffic commercial spaces, while acrylic sealants are popular for residential areas due to their affordability and UV resistance.
Why Sealed Concrete Floors Are a Perfect Fit for Washington D.C.
In Washington D.C., sealed concrete floors have gained popularity for several compelling reasons:
Versatility: Sealed concrete floors are a designer's dream. They offer an extensive range of customization options, from color and sheen to texture and pattern. Whether you're aiming for a sleek, modern aesthetic or a warm, rustic charm, sealed concrete floors can be tailored to your taste.
Durability: Known for their inherent strength, concrete floors become even more robust when sealed. The added protection makes them an excellent fit for bustling businesses and active households in Washington D.C.
Low Maintenance: These floors resist stains and moisture, simplifying the cleaning process. Regular sweeping and occasional mopping will keep your sealed concrete floors looking pristine.
Sustainability: As a sustainable flooring option, sealed concrete floors contribute to eco-friendly living. The sealing process extends the concrete's lifespan, reducing the need for replacement and, consequently, waste.
The Need for Professionalism in Sealing Concrete Floors
Sealing concrete floors, though it may appear straightforward, necessitates professional expertise to achieve optimal results. Improper sealing can result in inadequate protection and the need for frequent reapplications, leading to unnecessary costs.
Professional concrete sealing services like The Concrete Etc. ensure the process is executed flawlessly, from surface preparation to sealant application and curing. This precision not only enhances the durability of your concrete floor but also retains its aesthetic appeal for a long time.
Why Choose The Concrete Etc. for Your Sealed Concrete Floors in Washington D.C.
When you're considering sealed concrete floors in Washington D.C., The Concrete Etc. is your trusted partner. Our 15-year journey in the industry has been marked by a commitment to quality, professionalism, and customer satisfaction.
We engage with you personally, understanding your specific needs and preferences to ensure the final outcome aligns with your vision. Whether you desire a glossy finish for an elegant touch or a matte look for understated sophistication, we deliver.
With The Concrete Etc., you're guaranteed not just a flooring solution, but an experience. Our sealed concrete floors don't just fill a space; they define it, transforming your Washington D.C. property into a reflection of your unique style.
Our commitment to excellence and attention to detail ensure your sealed concrete floors are both beautiful and resilient. Don't compromise on the quality, durability, and aesthetics of your flooring. Contact The Concrete Etc. today to learn more about our concrete sealing services and how we can elevate your space. Let us help you make a statement with sealed concrete floors, the embodiment of style and functionality in Washington D.C.
Unparalleled Craftsmanship and Service
At The Concrete Etc., our skilled team possesses extensive experience and technical knowledge in the nuances of concrete sealing. We understand the impact of different sealant types on the floor's durability and appearance, allowing us to advise you on the best options for your specific needs.
Moreover, our dedication to customer satisfaction is unwavering. We respect your time and space, working diligently to complete projects within stipulated timelines without compromising on quality. Our work doesn't end when the project is completed – we're committed to providing post-installation support, helping you maintain the elegance and functionality of your new sealed concrete floor.
A Cost-Effective, Long-Term Investment
Investing in sealed concrete floors in Washington D.C. is a prudent financial decision. While the initial cost may be higher than other flooring options, the long-term benefits and savings make it a worthwhile investment. With their superior durability, sealed concrete floors require fewer repairs and replacements, saving you money over time.
Additionally, the simple maintenance regimen of sealed concrete floors eliminates the need for expensive cleaning products or professional cleaning services. Therefore, the total cost of ownership for sealed concrete flooring is significantly lower than for other flooring materials.
The Future of Flooring in Washington D.C.
Sealed concrete floors are more than a trend; they represent the future of flooring in Washington D.C. Their combination of versatility, durability, low maintenance, and eco-friendliness make them a smart choice for today's discerning homeowner or business owner.
The Concrete Etc. is proud to be at the forefront of this shift, providing superior sealed concrete floor installation and maintenance services. By choosing us, you're not only investing in a high-quality floor but also in a sustainable future.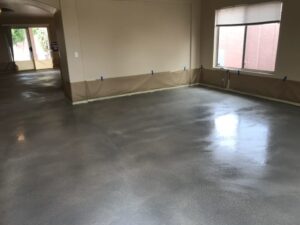 In the vibrant city of Washington D.C., sealed concrete floors are making their mark, and The Concrete Etc. is leading the way. With our commitment to quality, customer service, and sustainable practices, we're bringing a fresh, innovative approach to flooring in the capital.
If you're planning to install or upgrade your floors, consider the myriad benefits of sealed concrete. Contact The Concrete Etc. today to discuss your project, and let us guide you through the exciting journey of transforming your space with the lasting beauty of sealed concrete floors.