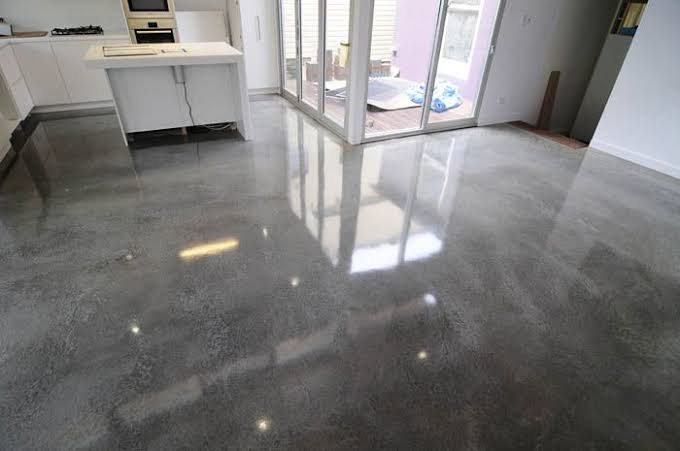 Are you in the market for a new flooring option? If so, you may want to consider installing concrete flooring in your Washington D.C. home or business! Concrete is a versatile material that can be used in both homes and commercial spaces. Additionally, it has a number of benefits that other flooring options do not offer. In this blog post, we will discuss the reasons why you'll want to install concrete flooring in your home or business. We'll also take a look at what polished concrete floors look like and answer the question "Can any concrete floor be polished?"
Benefits of Installing Concrete Flooring in Residential Buildings
While it's easy to imagine concrete flooring in an industrial setting, some folks forget that concrete can be an excellent option for residential flooring as well. Aside from looking great, there are many other perks concrete floors can offer a homeowner that contribute to its lasting value, including:
·      Variety of finishes, stains, and polishes: Don't think that just because you're opting for concrete floors they will look dull and gray. In truth, concrete can be fixed with a wide assortment of stains, dyes, and degrees of polish, making it a highly customizable option for flooring inside a home or garage.
·      Easy maintenance and cleaning needs: Unlike carpet, finished concrete won't collect dirt, dust, and other allergens. Once installed, its maintenance and cleaning needs are simple, with regular basic household equipment and cleaning solutions, with the option to mop on an anti-slip solution once the floors have been cleaned.
·      Durability: It's hard to beat the durability of a concrete floor. Especially when professionally finished, you'd be hard pressed to damage your floors through regular use of your home. For small blemishes or cracks, however, you can always patch up your concrete floor.
·      Competitive price point: Nowadays, the costs of construction materials are through the roof. From supply chain issues to the soaring cost of lumber, it can get expensive fast to go with flooring solutions like vinyl plank or even tile. Part of the benefit of concrete floors is the high-value floor for the cost—and the relative simplicity of the process when compared to traditional floor covering techniques. For example, a well-finished concrete floor will not need the addition of vinyl, wood, or other floor coverings; the polished concrete itself is both the foundation and the final result.
Benefits of Concrete Flooring in Commercial Buildings
As many reasons as there are to enjoy concrete floors in your home, there are even more reasons to install concrete floors in a commercial building or a place of business. With the low maintenance quality of concrete and the high value for the investment, factors that cause business owners to love their concrete floors include:
·       Resistance to scuffs and damage: If you run a retail establishment that endures a lot of foot traffic or continual movement of wares, you'll want to invest in flooring that does not require excessive amounts of maintenance, like regular waxing. Because of the durability of concrete floors, they are an excellent choice for business owners looking for a maximum value investment with a low likelihood of needing repairs.
·       Low maintenance: From warehouses to retail establishments, concrete floors enjoy the perks of being easy to clean with minimal effort required to maintain them. Polished concrete is protected from stains and scuff marks and is likely durable enough to withstand even the most aggressive treatment. This not only means less work, but it also means that your investment in concrete floors could potentially last a lifetime.
·       Reflective properties: Looking to incorporate more natural light in your business, or hoping to keep costs of fully illuminating your business down? Polished concrete floors are highly reflective, and are a cost-effective way of brightening up a space. A brighter atmosphere can mean everything from increased employee safety to increased customer flow.
·       Moisture diffusion: Because even polished concrete is porous, it allows excess moisture to evaporate rather than harboring water. Having floors that can "breathe" in this way prevents water damage from occurring within layers of your floor material, as can happen with tile or vinyl planks. This protects your investment and minimizes the number of maintenance expenses a business owner might incur throughout the lifespan of the floor.
·       Eco-friendly option: Concrete floor installation takes fewer chemicals like cleaners, adhesives, or toxic coatings that may be present with other flooring materials. This added benefit may even lower the costs of concrete floors compared to other, more hazardous, flooring materials.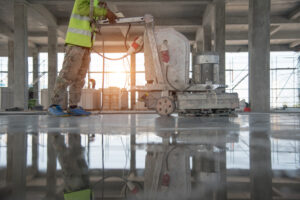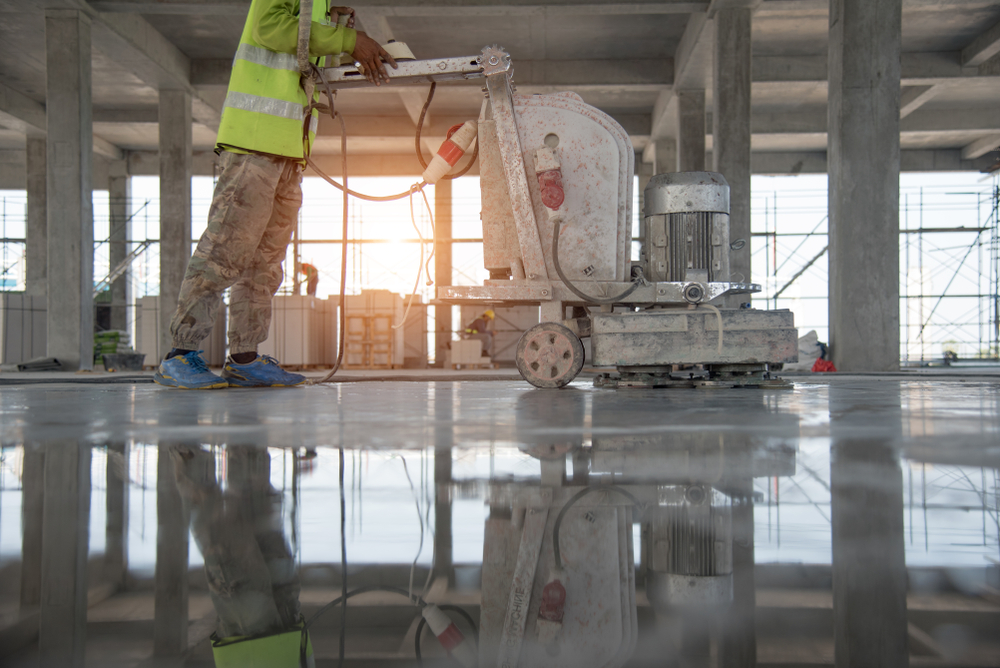 What Do Polished Concrete Floors Look Like?
Polishing concrete is a process that is relatively similar to polishing wood in that abrasives are used to gradually soften the rougher edges of the material until a polish can be applied. Polished concrete floors will be reflective and shiny, and range in color from the natural grey of concrete to various colored dyes and stains. (Want to know more about concrete dye? Check out our recent article on the topic!)
Can Any Concrete Floor Be Polished?
Whether you're looking to install new concrete floors or looking to improve an already existing one, there are a few things to keep in mind when it comes time to polish your concrete. The first is how reflective you want your concrete floor to be; the shinier you want it, the finer the grit you need to apply to the finish. Second, you will want to make sure your floors are clean and free from oil, dirt, or other residues before polishing. Third, and perhaps most importantly, you will need to account for the imperfections in your floor. Is the floor wavy, cracked, or particularly porous? If so, you may want to have a professional concrete contractor come and assess your floor's suitability for polishing.
Concrete Flooring Washington D.C.
If you're looking for a durable flooring material for your home or business, you may be a good candidate for concrete floors. Aside from looking beautiful, clean, and professional, polished concrete floors have a lot to offer homeowners and business owners alike. With easy cleaning, minimal maintenance, and an environmentally-friendly installation process, it's no wonder so many people are looking to concrete as a cost-effective, high-value solution for their commercial and residential flooring needs.
Are you looking to invest in your home or business with high-value construction materials? Contact Concrete, Etc today for a quote!