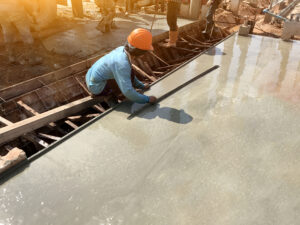 Whether it's for your home or business, as a renovator, you're always looking for ways to save money without sacrificing quality. When it comes to concrete flooring, there are a few things you can do to keep costs down without compromising your vision. In this article, we will discuss the average concrete cost per yard and how that price can be affected by factors like square footage and finishing style. We'll also give you some tips on how to get the best deal on concrete flooring without compromising on quality or service, and point you in the direction of one of the best flooring contractors in Maryland. Read on for tips on how to budget your upcoming project!
What Is the Average Concrete Cost Per Yard?
For clarity's sake, we will provide you with the average cost of concrete per foot as well as per yard, assuming a plain, medium-polish finish. Most concrete floors cost between $4-$8 per square foot—or $113-$126 per cubic yard. There are several factors that may influence the price of your concrete flooring, detailed in the section below. Learning these rate-influencing qualities can help you better budget your upcoming project while landing a beautiful, professionally finished concrete floor!
What Factors Can Affect the Price of Concrete Flooring?
There's much more to successfully laying concrete flooring than just mixing and pouring concrete. A professional flooring contractor will be able to assess the nature of your home or commercial building, create a unique framework for your project, and mix, pour, level, cure, hone, and polish your floors to your liking or budget requirements. After the concrete has effectively cured, however, there are steps they can take beyond honing and polishing to further protect the investment of your concrete floors—but of course, the more services you ask for, the heftier the final bill. Here are the top four factors that can affect the price of concrete flooring!
Scope of the Project
Obviously, the larger the scope of your project, the more it will cost. More square footage means more hours of labor and more materials consumed until the project is fully completed. If you figure that concrete slab flooring is typically between four and eight inches thick, the cost of concrete alone can quickly add up—let alone the materials needed for building a foundation framework and paying laborers. Also, you'll want to find out if your concrete floor contractor charges an hourly rate—and if there are ways you can expedite the process to help lower costs. You may want to keep this in mind for larger projects, as an 8' x 8' concrete slab 6" deep costs only $395, whereas a 20' x 30' floor of the same depth is nearly $4,000.
Degree of Polish
Do you want reflective floors that spread natural light and keep utility bills low? If so, you may be looking at a high-gloss polish finish to your concrete floors. Depending on the level of shine you hope to achieve, polished concrete floors can cost anywhere from $3 per square foot to $12 per square foot—so only you can decide what degree of light reflectiveness is worth the cost. However, it's worth mentioning that the higher the degree of polishing a cured concrete floor gets, the better is protected from potential damage and distress. For this reason, some people look at polishing their concrete floors to a high degree as a means of protecting their investment.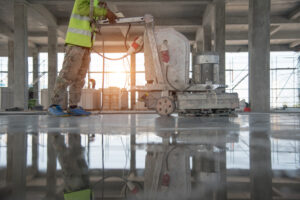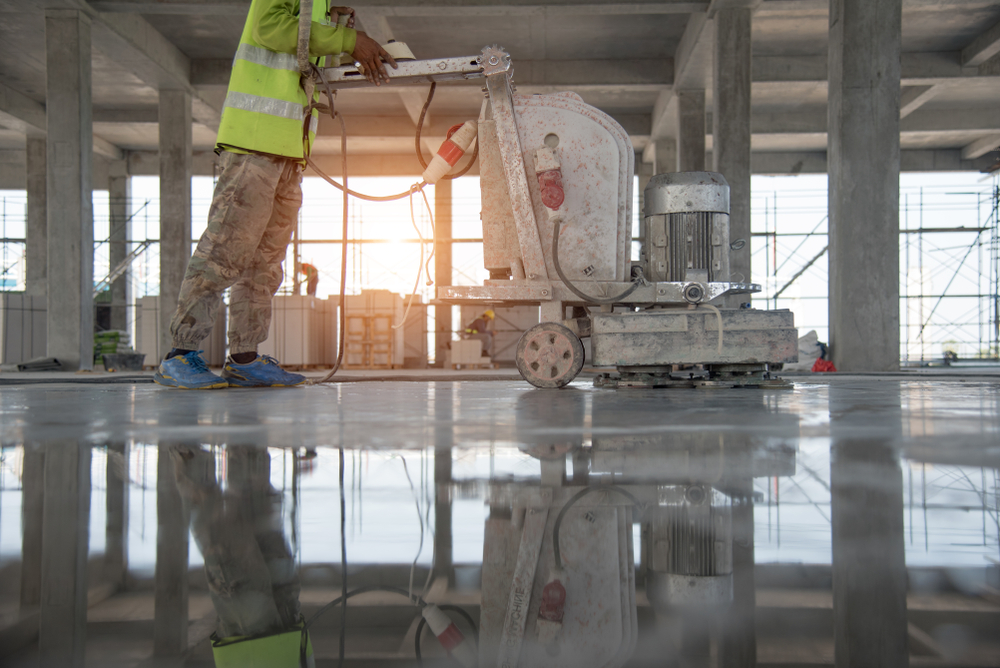 Stains, Dyes, or Other Aesthetic Touches
Concrete floors come in all kinds of aesthetics—so don't make the mistake of thinking you'll be stuck with a boring matte gray. In fact, there are many options for customizing your concrete floor, ranging from acid- or water-based stains, dyes, etching and patterns, airbrushing, the addition of logos or graphics, and more. Of course, the more intricate you are with your design, the costlier the final result—but you will be rewarded with a handsome, low-maintenance flooring solution that will likely last the rest of your life! Keep in mind that stains and dyes can cost anywhere from $7-$14 per square foot.
Protective Layer of Epoxy
Another option for concrete floor finishes is to add a final protective topcoat of epoxy. Whether this is a simple clear epoxy designed to seal and protect the floor beneath or a decorative epoxy terrazzo, this can cost between $15 and $30 per square foot. While this might seem cost prohibitive to some renovators, it's important to keep in mind that epoxy provides a protective barrier from grease and staining, moisture, impact marks, and other forms of stress on your concrete floors below. A layer of epoxy flooring over the top of your concrete floors also opens up whole other worlds of aesthetic possibilities, which can be enticing to some renovators!
How to Keep Concrete Floor Costs Low
When planning for your upcoming floor renovation or construction, there are several things you are going to want to keep in mind: value for the cost, protecting your investment, safety, and aesthetics. You will want to consider long-term and short-term returns on investment and look at the true cost of installation and maintenance. Happily, with concrete floors, maintenance costs are quite low, as they simply require a dry mop and a wet mop every now and again.
Concrete floors are a high-value flooring solution that can outlive the homeowner, if properly installed. However, there are some basic procedures that must be followed in order to lengthen their lifespan, including taking care in properly curing, polishing, and sealing them. Especially if you are a business owner, you will want to think about the safety implications for your crew and even your merchandise. Concrete floors are relatively unforgiving and, especially when finished with a top coat of epoxy, they can become quite slippery when wet. This can be mitigated by adding abrasives to your epoxy, but this of course comes with a price increase. However, epoxy has the benefit of being bright and colorful, making tripping hazards less likely.
If you are looking for high-value, durable, long-lasting floors without any frills, try going for high-polish concrete flooring. Without the added expense of stains, dyes, or epoxy, you are likely to end up with well-sealed and protected floors that will last for decades.
Best Concrete and Epoxy Flooring Contractor in Maryland
If you're looking for the best concrete flooring contractor near you, look no further than The Concrete, Etc. We are a concrete flooring contractor in Maryland that offers competitive prices on both concrete and concrete finishing services. We also offer a wide range of concrete flooring solutions to fit any budget, from simple sealers and polishes to more intricate finishes like stamped, stained, and dyed concrete. Want to know more? Contact us today for a free estimate!