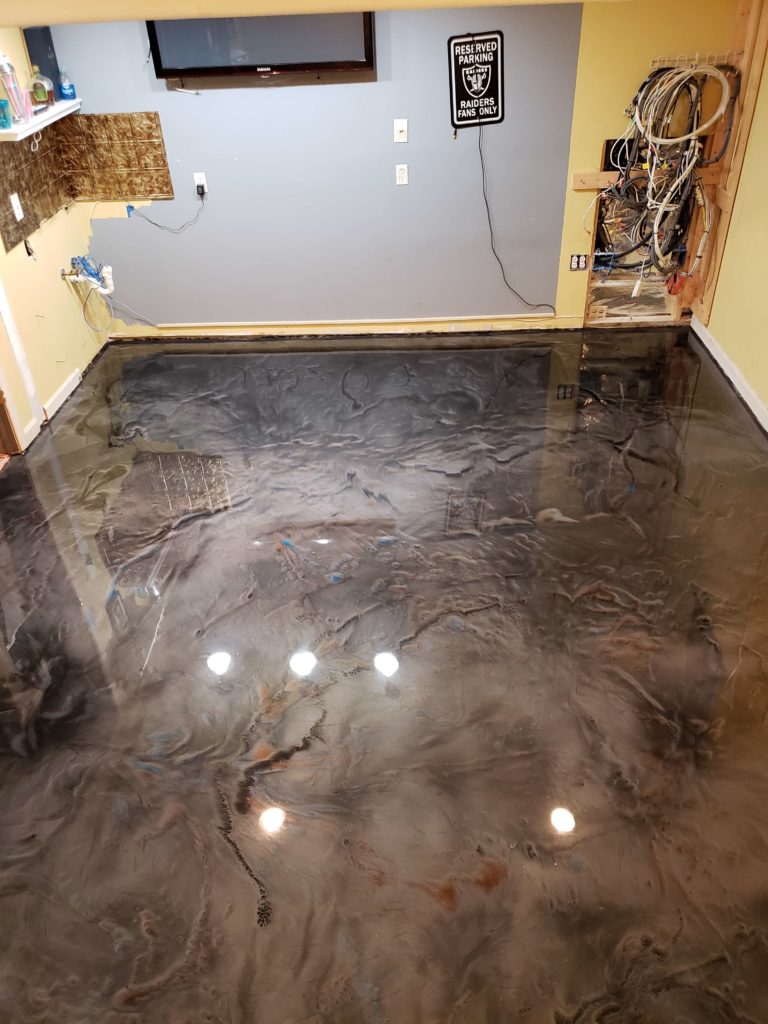 If you've recently had concrete floors installed in Silver Spring, MD, epoxy coating professionals may be your next phone call. In fact, many people opt to add this protective layer to their concrete floors as a means of adding additional lifespan to freshly poured concrete floors—plus they look eye-catching as well!
Epoxy coatings are one of the best ways to protect your concrete floors from wear and tear. Not only do they look great, but they also provide a layer of protection that can keep your floors looking new for years to come. In this article, we will discuss what epoxy is, why you should put an epoxy coating over your concrete floors, what the different kinds of epoxies are, and how many layers go into a proper epoxy floor coat. We will also cover any potential drawbacks of working with epoxy as well as the basics of how a professional would install an epoxy coating over your concrete floor!
What Is Epoxy?
Also called epoxy resin, epoxies are a class of polyepoxides, which are made of polymers and reactive prepolymers that also contain epoxides. Polyepoxides are often mixed with polyfunctional hardeners to create a thermosetting polymer, which is often resistant to high heat and chemicals. Because of this quality, epoxy is used in a wide array of ways, including in electronics, paint brushes, adhesives, and contractor work.
What Does an Epoxy Floor Coating Do?
An effective epoxy floor coating will consist of a mixture of the polyepoxide resin and a polyfunctional hardener which must be applied by way of a rolling brush. When thoroughly coated in epoxy and cured, an epoxy floor coating will add another durable, protective layer over your concrete floor, will update or alter its appearance, or will even cause the concrete itself to visually "pop," or enliven.
Because epoxy is so strong and non-flammable, it is a natural choice for garages and basements and, if applied correctly, an epoxy floor coating could last up to 20 years.
What Are the Different Kinds of Epoxy Floor Paints?
Epoxy is only growing increasingly popular for finishing countertops, tables, and floors—but not all epoxy resins are created equal! Here are the three most common forms of epoxy:
1.     Water-based epoxy: Containing between 40-60% solids within a water base, this form of epoxy is loved by home DIY-ers and professionals alike, and is especially liked by those working in enclosed spaces! This is because water-based epoxy does not release hazardous fumes like its cousin, solvent-based epoxy.
2.     Solvent-based epoxy: Also containing between 40-60% solids within a solvent base, these epoxy resins are known to create powerful fumes that require the applicant to wear a respirator. The benefit of solvent-based epoxy is that it comes in a wide range of colors, it easily penetrates the surface of the concrete, and it bonds well to the concrete floor as well.
3.     Solid epoxy: You guessed it—this type of epoxy is the purest form of the stuff—though it is also relatively difficult to use. Solid epoxy hardens very quickly and is therefore best left to the professionals.
How Many Layers Go Into an Epoxy Coating?
When creating an epoxy floor coating, it's important to paint more than one layer of epoxy, allowing each added layer to dry. (Each layer must cure for at least 12 hours!) When purchasing epoxy for your home project, this is something you will have to figure in: 2-3 coats will be necessary, and you may want to add some non-skid floor coating into the final layer of epoxy if you're concerned about slips and falls.
When Can I Apply an Epoxy Floor Coating?
If you want to finish off your concrete floors with epoxy, you must wait at least 30 days after finishing your concrete project so the floors can fully cure. If you're working with existing concrete floors and are simply hoping to add an epoxy layer on top, you will first need to plan in an extra day to patch any holes or cracks in the floor with supplemental concrete, allowing that to cure at least 48 hours.
Once your epoxy is mixed, you typically have about two hours to work with it before it sets—that is, unless it's solid epoxy. So, it's best to make those two hours count!
Are There Any Downsides to Epoxy Coatings?
Simple as it might seem to paint epoxy over your concrete floor, there are actually several relatively involved steps that you must go through beforehand in order to truly do it right. For example, you must patch any damaged areas of the floor and allow that to cure. Then you must scrape and vacuum the floor, douse the whole floor with water, and use a power scrubber with a stiff-bristle brush attachment and cleaning solution to clean the entire floor. Then you must check with your local municipality on how to safely dispose of this water. And that's not all! Then you must wear a respirator and apply a diluted acid mixture to the floor and scrub using a long-handled acid brush, covering the whole floor. This must be rinsed away three times and allowed to fully dry. Only then can you begin to start painting your floors with epoxy.
Epoxy also takes a long time to apply correctly. With all the time spent patching floors, curing, cleaning, and acid-etching, applying a couple of coats of epoxy can easily take upwards of two or three days. One final consideration is that epoxy floors can be quite slippery should they get wet. You can help to mitigate this by adding anti-skid ingredients to your top layer of epoxy in order to increase traction.
How to Add an Epoxy Coating to Your Concrete Floors
Provided your concrete floors are at least 30 days old, they can benefit immensely from a protective epoxy coating. Here are the basic steps for adding an epoxy coating to your concrete floors:
1.     Deep clean the floors. This means scraping up any gunk with a floor scraper, busting out your anti-grease solvents, and vacuuming up any mess that comes from sweeping. To thoroughly clean your floors, it's best to hire a power scrubber with a stiff-bristle brush and thoroughly scrub the whole surface of the floor and up to six inches up the wall as well. Check with your local municipality or environmental office about how to dispose of this water, particularly if it came from your garage. Rinse the area thoroughly.
2.     Make any repairs. Do you have cracks, holes, or chips in your floor? Now is the time to smooth them over. Take a small amount of freshly mixed concrete and patch the floors, allowing at least 48 hours to dry.
3.     Acid-etch. Next, you will take 1 part muriatic acid and 10 parts water and distribute this solution over the surface of the floor. Using a long-handled acid brush or the power scrubber, scrub the entire floor with the acid solution. Rinse three times and allow to completely dry.
4.     Mix your epoxy and apply. Be sure to wear a ventilator when working with epoxy. It is generally best to paint the perimeter of the floor with a paintbrush and to apply epoxy to the interior with a rolling brush. (Plan accordingly so you do not paint yourself into a corner.) Let each coat dry for at least 12 hours, working up to two or three coats. (Optionally, add anti-skid components to your final coat of epoxy for increased traction once it dries.)
5.     If desired, add "baseboards." If you have leftover epoxy, once your floor has completely dried, tape a border about six inches or so from the bottom of the floor and paint the stripe beneath the tape with epoxy. This adds the appearance of baseboards.
If all this seems like too much work to you, you're not alone! Fortunately, there are professionals who are able to work with solid epoxy to coat your floors faster than you would be able to do on your own—even if you are an experienced DIY-er!
Silver Spring, MD Epoxy Coating Professionals
Epoxy is an increasingly popular material that has millions of views on YouTube for stunning countertop designs, so-called "exotic pours," and live edge wood furniture that has cast it squarely into the limelight in recent times. However, it's been around for over 100 years, and first became commercially available in the United States in the 1940's. If you're looking for a way to spruce up your garage floors and further protect them at the same time, consider adding an epoxy coating to your concrete floors—and with it, 20 or so years of extra life!
Are you looking for epoxy coating professionals in Silver Spring, MD to paint your concrete floor? Contact The Concrete, Etc today for a consultation, or click here to browse our previous work!