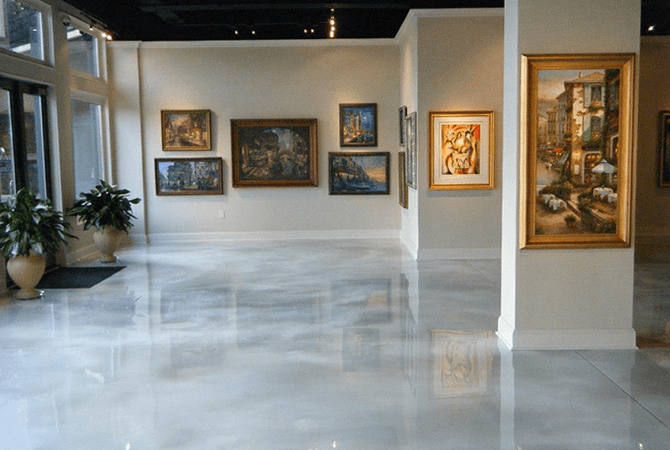 Epoxy floor coating can transform your space while strengthening your flooring, whether you need to refurbish outdated flooring or seal your concrete surface. When it comes to maintaining concrete floors and shielding them from damaging impacts, this floor coating comes as a pleasant surprise. There are numerous advantages to coating the floor of an auto shop, room, or garage. In high-traffic areas, epoxy floor coating protects and beautifies your floor. If your floor is uncoated and has been exposed to damage, epoxy can protect your floor and add a level of professional refinement that it may have been lacking. Epoxy resin, polyamine hardener, and other additives make up epoxy floor coatings. It is frequently used as an adhesive instead of a floor coating. It creates a unique chemical reaction when it is mixed together, giving your floor a distinct appearance. This chemical reaction creates a new level of surface stability and endurance, which are two of the most critical properties it produces. This procedure creates a strong bond by sealing and curing the surface to which it is applied. See if epoxy floor coatings are a good fit for your space by checking out their benefits.
Benefits of Epoxy Floor Coating
Appearance and Covering Defects
The use of epoxy floor coatings transforms spaces into complete and polished environments. An epoxy coating can transform the look of any garage, whether it's a business garage or a personal garage in need of a makeover. The mirror-like finish enhances any ambient lighting. The space will take on a new dimension as the light reflects off the epoxy. Epoxy can also hide previous flaws in your garage floor. Epoxy is available in a variety of patterns and colors, so you can customize the look of your garage or room to match your style. Using epoxy paint, you can further conceal flaws by mixing the long-lasting substance into the paint color of your choice to create a masking effect. If you want a more textured look, you can add decorative chips of mica or quartz to the epoxy mixture. This design adds a level of oomph and a slew of glistening accents. Adding a touch of glimmer with metallic epoxy coatings is another appealing option. Using an epoxy floor finish, you can dress up practical spaces without sacrificing comfort.
Cost Effective
Epoxy is a more affordable alternative to ripping out your old flooring, buying new tile or vinyl, and having it all installed all over again. You don't even have to get rid of your old flooring, saving you both time and money. With an epoxy finish, you don't have to fork over a lot of money for a new look for your floors. Conserve money by reusing your current flooring and improving the appearance at the same time. You can easily and affordably improve the look and benefits of your concrete floor by applying an epoxy coating to the surface. It takes a few coats of epoxy to get the job done, but it's still a lot less expensive and time-consuming than other flooring options. If a flaw does occur, it is possible to fix it for a reasonable price if addressed quickly. Professional installation is worth the money because the flooring will last for a long time, making this a smart investment. The most cost-effective option is to hire a professional to complete this task. Protective measures are taken by professionals to avoid poor application practices.
Resistance
Epoxy coating can protect your basement, laundry room, or garage from harmful elements that are sure to encroach on high-traffic areas such as these. In addition to being a durable flooring option, epoxy is known for its many resistances. Shock, heat, chemicals, and water all fall on it. There are numerous chemicals that cars emit that make this a perfect fit for garages.
A testament to Epoxy's toughness is the fact that it is resistant to shocks. Epoxy coating is impervious to impacts that would normally cause concern, such as heavy objects falling to the floor or the wear and tear of cars driving over the surface. It doesn't matter if you drop tools, machinery, or even recreational gear on the ground. It is no longer possible for concrete to be chipped by jarring collisions when a thick layer of epoxy is on the ground.
After drying, epoxy can withstand temperatures up to a certain point. Typically, epoxy can withstand temperatures of up to 200 degrees Fahrenheit, but higher-grade epoxy can withstand temperatures of up to 350 degrees. A variety of levels of phosphorus are added to the epoxies in order to achieve the desired level of heat resistance. Garages and even kitchen floors benefit greatly from heat resistance.
Epoxy is unaffected by household chemicals or by chemicals left over from cleaning your car. Do not be alarmed if you are working on your garage's car collection and spill brake fluid or oil on the floor. The epoxy coating can be cleaned with chemicals without harming it. Chemicals cannot seep into the concrete because of the thickness and density of the layering.
In the event of flooding or spills, this water-resistant material will keep your floor from being damaged. It is possible that some epoxy surfaces are more slippery than others when water does not soak into the floor, depending on the type of epoxy. It is possible to request slip-resistant aggregate for epoxy floors if water accumulates on the top because of their imperviousness.
Long Lasting
It won't be necessary to reapply epoxy for a long period of time after the initial installation. Because of its shock, water, and stain resistance, the coating lasts longer than tile, carpet, or wood flooring. Durability and protection are two of epoxy's strongest selling points. It's best to use epoxy in garages and basements if you don't want to have to replace the floor every few years. Cost-effective advantages are bolstered by the coating's long-term durability.
Protection
Concrete and other types of flooring are well-protected with epoxy as a sealant. Overlaying the underlying surface is no problem for this impressive shield. The epoxy's membrane-like coating adheres to the rough surface of the concrete, extending the life of the concrete beneath. As a preservation overlay, this prevents the concrete from deterioration and cracking. The surface does not hold stains and prevents concrete defects from forming. In most cases, more than one coat of epoxy is applied over the course of a few days, resulting in a thick and rubbery sheet.
Strength
EPOXY is capable of withstanding heavy loads as well as impacts and shocks. As an adhesive, epoxy stands out from the rest, but it is still a good choice as a coating. It's possible to increase the concrete's surface strength from 3,000 pounds per square inch to 10,000 pounds per square inch by adding epoxy to it. The epoxy's ability to resist peeling and tearing is also a sign of its strength. The surface will be stable enough to withstand heavy loads and wear and tear if epoxy adheres to the concrete properly and maintains a standard rigidity. EPOXY, a resin, is sturdier than glass or a veneer, despite its appearance. Epoxy's strength comes from its hardener, a polyamine-based component of the epoxy compound. A corrosion inhibitor, this synthetic substance protects and strengthens its structure.
Safety and Visibility
Large garages and rooms benefit greatly from epoxy floor coating installation. The reflective surface of epoxy provides a safety measure by illuminating the entire room. The shiny quality of most epoxy options can keep you safe by increasing the amount of light in a space, and this sheen produces an elegant appearance. Traction in some epoxies and anti-slip mixes are other safety features of epoxy. It is possible to make your epoxy flooring more stable with the addition of additives. The slickness of epoxy can be altered by adding polymer grit, mortar, aluminum oxide, gravel, or sand. Talk to your flooring company about adding an additive to help you determine which option is best for your space. The epoxy fumes will not harm you during the curing period if your installers take the proper precautions and ventilate the area properly. Safe for you and your loved ones once the epoxy dries. Keep an eye out for any safeguards that the professionals you hire have put in place. Ventilation may be extended for a short period of time.
The Concrete ETC; Gaithersburg, MD Epoxy Floors
More than a decade of experience in decorative concrete polishing and natural stone restoration is held by Concrete Etc's management and owners. The thousands of hours spent by our highly qualified and certified technicians in decorative concrete and natural stone restoration are a testament to their expertise. We use only the best products in concrete dyes, sealers, polishes, and cleaners in order to provide our customers with the best options possible. Rockville Maryland and the Washington, DC metro area are serviced by Concrete Etc. Whether it's a commercial, residential, or industrial project, we're here to help. If you're looking for Epoxy Flooring, give us a call right away.