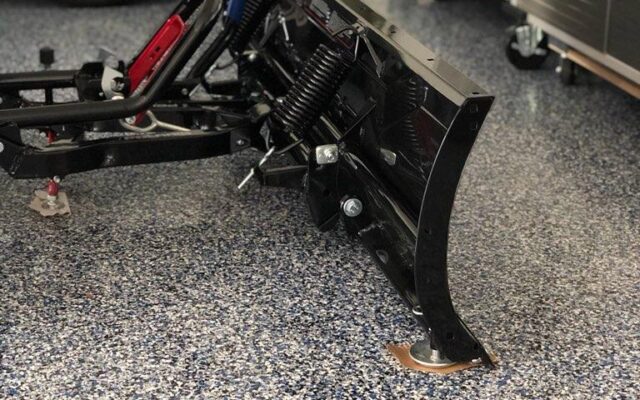 If you're considering a new flooring option for your home or business, epoxy floors may be just what you're looking for. Epoxy is a durable and versatile floor coating that can be used in a variety of settings. In this article, we will discuss what epoxy floors are, the different types of epoxy flooring available, and the pros and cons of using epoxy as a floor finish. Looking for different options for professional epoxy floor designs in Washington D.C? Read on to see what's possible with this versatile material!
What Is Epoxy Flooring?
Ah, epoxy. It has been enjoying viral status on all kinds of social media platforms these days, with all sorts of companies springing up to practice it—but what exactly is epoxy? Simply put, epoxy is a synthetic floor resin typically placed over the top of a layer of a concrete substrate. However, depending on the skill level of the installation expert, epoxy can be placed over a number of other durable materials, including granite or marble, ceramic, tile, and even wood. (Epoxy generally will NOT stick to surfaces made out of glass, metal, or plastic, except in very rare circumstances—so most flooring contractors prefer to work with concrete.)
Generally, an epoxy-coated floor will consist of three layers: a prepared substrate (usually concrete), a flowprime layer, and a flowshield self-leveling layer. The top two layers are comprised of a thermosetting epoxy resin that can be trowelled, poured, or rolled onto the substrate. When these resin layers have cured, the resulting epoxy forms a permanent bond with the substrate, both used for protective and decorative purposes.
What Are the Different Kinds of Epoxy Flooring Options?
Fortunately for the homeowner or business owner, epoxy is as durable as it is versatile in terms of design. There are many different forms of epoxy, but some of the most commonly utilized forms of epoxy include:
1.     Terrazzo Flooring: This extremely popular choice for epoxy flooring involves colored resin with added aggregates like glass, marble, granite, etc which are laid together over a substrate. After it's cured, the mixture is sanded and polished until it is smooth. These floors have an expected lifespan of over 40 years, perhaps one of the reasons that they are so popular. This type of flooring works in both residential and commercial atmospheres.
2.     Epoxy Floor Paint/Epoxy Floor Coatings:  Generally reserved for commercial or industrial buildings, this type of epoxy finish typically come in a single color that can be glossy, satin, or matte in reflectivity. This lighter finish is typically best reserved for flooring areas with medium to light levels of activity—though if there is any doubt if this method of epoxy floor paint would be appropriate for your home or business, it's best to consult a professional!
3.     Self-Leveling (SL) Epoxy Flooring: As you may have gathered from the name, this type of epoxy levels itself once applied to a substrate. To work effectively, the SL epoxy coating must be between 1-3 millimeters thick. This type of epoxy finish is considered very durable and does well in highly-trafficked environments.
4.     Epoxy Flake Coating: Somewhat similar to terrazzo in appearance, epoxy flake coatings involve the use of epoxy resin and flakes of various sizes and colors finished with a clear coat of sealer. This particular type of epoxy floor coating is quite durable and chemical-resistant, making it a beneficial choice for schools, restaurants, and business settings.
5.     Epoxy Screeds: On the thicker end of the spectrum of epoxy floor coatings resting between 4-6 millimeters, epoxy screeds must typically be applied by the use of a trowel and "power floated" to create a level surface. This heavy-duty flooring system often involves a variety of different resin components such as anti-slip or SL coatings, and is possibly the most durable epoxy floor on the market. This makes epoxy screeds ideal for industrial settings, manufacturing and warehouse settings, and other high-traffic types of environments.
6.     Antistatic Epoxy Flooring: As you may have gathered by the name, this type of resin coating prevents electrostatic charges from building up on the surface of the floor. This type of floor coating is suitable for all levels of traffic, though it is commonly used in clean rooms, food processing facilities, and laboratories. This type of antistatic floor system must be compliant with antistatic standard requirements typical of environments suited to electronic, automotive, pharmaceutical, and engineering endeavors.
What Are Some Common Epoxy Floor Designs?
We just took a deep dive into some of the many different kinds of epoxy resin floor coatings available on today's market—but what does epoxy look like? Part of the reason that epoxy is so popular is the wide array of design possibilities that come with this particular material. Some industry-leading epoxy floor designs include:
·      Terrazzo epoxy flooring
·      Metallic epoxy flooring
·      Flake epoxy flooring
·      Glitter epoxy flooring
·      "3D" epoxy flooring, where layers of resin look multi-dimensional
·      Exotic pour epoxy flooring, with many different colors applied at once to the same floor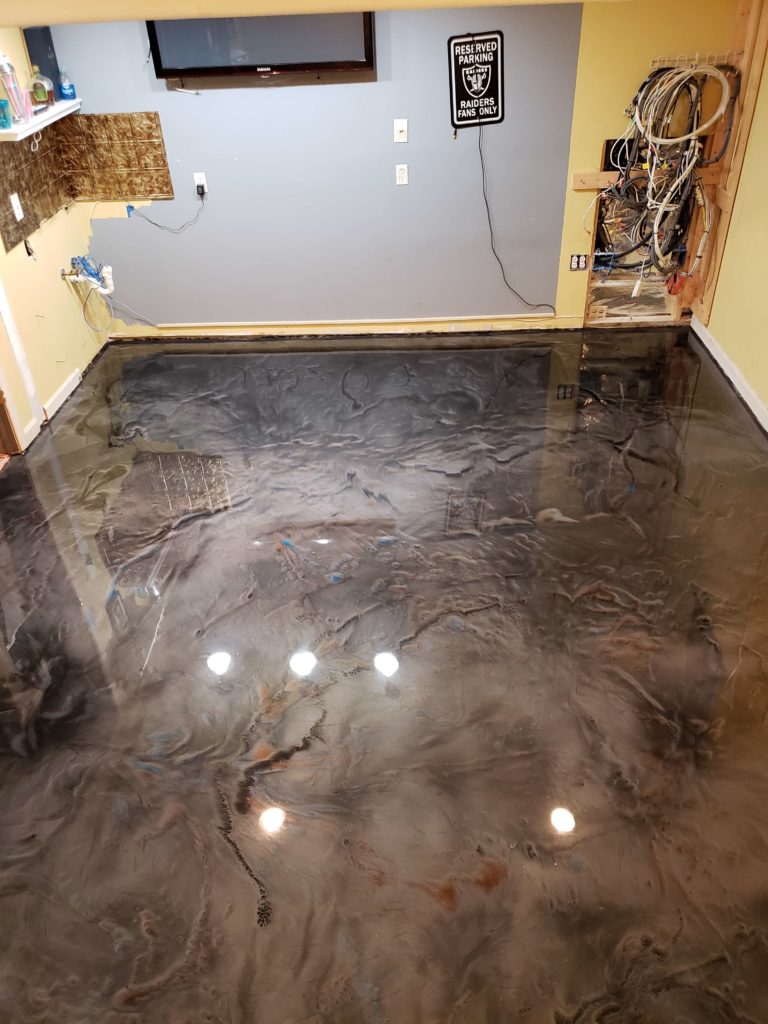 Epoxy Floor Pros and Cons
Epoxy flooring can be a great solution for many homeowners or business owners, while it might not work so well for others. In the following section, we will cover some basic pros and cons of installing epoxy floors in your home or business.
Epoxy Pros
There are a lot of benefits to epoxy floors if you are thinking about the durability of the floor for the foreseeable future (40 years or more). Other benefits to epoxy floor coatings include:
1.     Range of application: With so many different kinds of epoxy flooring to choose from, this material of flooring is a viable option for many different kinds of environments—from residential surfaces like garages or kitchens, to industrial or engineering environments or retail establishments…the list goes on. It is also a natural choice for hospitals, as it is more germ, mold, and mildew resistant than flooring materials like tile that collect pathogens in the grout.
2.     Easy maintenance: Once installed, epoxy floors are relatively low maintenance and easy to care for. Because the surface of the epoxy resin is impervious, it is less likely to harbor dirt, germs, or other contaminants, which can easily be cleaned away by regular sweeping and mopping. There's no waxing or buffing required for epoxy resin floors!
3.     Slip resistance: One possible option when laying your epoxy flooring is adding a level of slip resistance to the floors by casting sand into the wet resin. This possibility negates nay-sayers' fears that epoxy flooring is too slippery or dangerous to install.
4.     Easier on the environment than some other flooring options: With very low levels of Volatile Organic Compounds, solvent-free epoxy resin does not pose an environmental hazard during proper handling and installation.
5.     They look great—and are infinitely adaptable: From glitter bomb floors to nebula-like swirling patterns to traditional terrazzo, there are many ways to make a statement with your epoxy resin floors—even if that statement is a simple matte gray.
Epoxy Cons
Epoxy is a great solution for many people—but it's not for everyone. Here are some reasons why people opt for flooring materials other than epoxy resin:
1.     Not completely impervious to damage: It is possible for your epoxy floors to become cracked or chipped with regular wear and tear. However, this can usually be repaired by reapplying a fresh top coat of epoxy over the damaged floor.
2.     Potential slipping hazard: Epoxy that has not been treated with sandblasting may be extremely slippery should oil or water be spilled on its surface. This is something to consider if you are looking for a flooring solution for an area with a lot of foot traffic.
3.     Epoxy, especially darker epoxy, emits fumes during application: The fumes from epoxy flooring come from the hardeners in the resin, which are more numerous in darker shades of epoxy. These fumes may smell like ammonia and may take some time to fully air out.
4.     Removing epoxy floors: Should you ever wish to redo your floors, removing such sturdy flooring is often an arduous undertaking. Epoxy resin floors should be looked at as a commitment for the next forty years or more—unless you have plenty of room in the budget to hire a flooring contractor to change your floors for you!
Epoxy Floor Designs Washington D.C.
Epoxy has been in circulation for over 100 years, though the United States did not start using it in earnest for commercial purposes until 1964. Since then, it has remained a popular, wildly adaptable, durable flooring solution that is suitable for many different types of environments and applications. From pharmaceutical industries to aeronautics, epoxy resin flooring can provide a high-value investment for any home or business, and equip any structure with reliable flooring for many years to come.
Are you looking for a professional epoxy floor designer in Washington D.C? Contact Concrete, Etc. today for a consultation!